The Tech Zone Is Up and Running !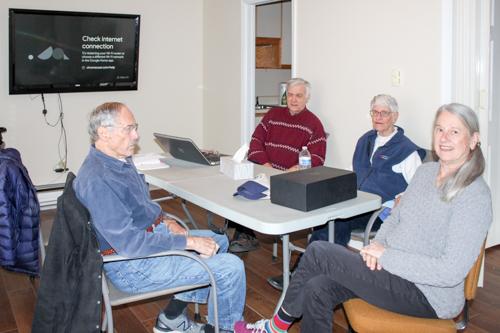 There's a new player in town when it comes to higher education—the Sunnyside Institute of Technology (SIT). The SIT is developing a visible presence on the Sunnyside campus because they now have their own clubhouse—Apartment 4, located in the "Six Pack" (aka the Woodside Apartments), just across the parking lot from the Eiland Center. Sunnyside has recently made the decision not to rent out these units in the future, so Apartment 4 has been dubbed the Tech Zone and will serve as a focus for many of the Tech Club activities.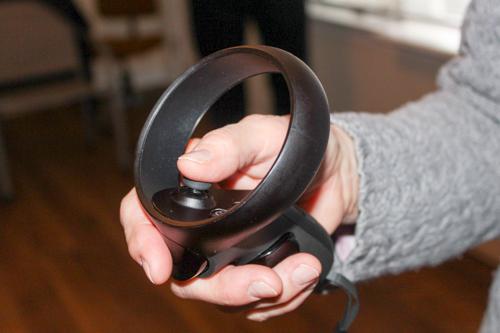 One of the recent activities undertaken by the SIT is an exploration of Virtual Reality (VR). (In fact, when this reporter came to the Tech Zone to talk to Don Oxley, another resident was "virtually" kayaking in the Antarctic courtesy of a National Geographic Virtual Reality program.) The use of VR promises some exciting possibilities, especially for residents of Assisted Living. In addition to the potential for virtual travel, Don Oxley explains that residents might, for example, be able to visit a "virtual Louvre" to experience the art works there. "We want to see VR technology put in service to residents," says Don. "Technology should be a means to enhance life for all Sunnyside residents. To that extent, we see the Tech Zone as a service space, not as a club space."
On the fourth Monday morning of each month the Tech Forum meets to discuss tech issues as they relate specifically to JMU. Some graduate students at JMU, for example, have recently inaugurated a study of VR, stress, and Assisted Living residents. The Tech Club is also exploring the capabilities of 3-D printing and laser cutting. The latter might assist Sunnyside woodworkers with projects such as their annual Christmas cradle and sleigh making.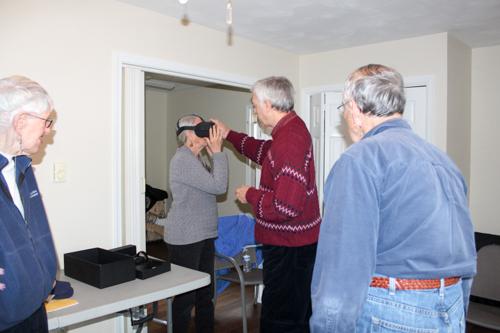 The Tech Zone came about through a combination of luck and initiative. The Tech Club had been meeting in either the Massanutten Room or the Allegheny Room at the Highlands, but Tom Harkins heard another space might be available in the Woodside Apartment, so he investigated the possibility of making this a dedicated space for the Tech Club. He and Don were particularly interested in locating a more permanent home for VR technology. Also instrumental in establishing the space were Josh Lyons, Robin Golliday, and Nancy Wayland, all of whom were enthusiastic supporters of the idea. Before Apartment 4 was turned into the Tech Zone, the space was not prepossessing, but the maintenance staff fixed it up with Pergo floors, a new door, a renovated bathroom, fresh paint, and even a flat-screen TV.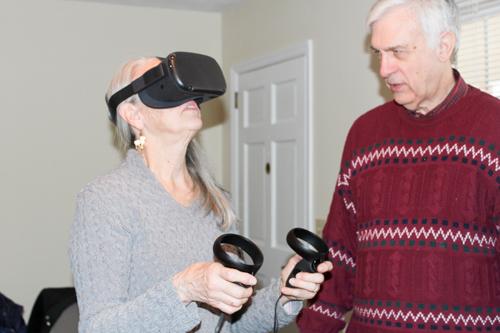 Other spaces in the Woodside Apartments might also begin to serve as meeting venues for Sunnyside clubs and activities become as they available – creating somewhat of a Sunnyside Community Center. The Resident Council will be working with the administration to make this flexible space a reality. If you are a part of a group that might be able to create and use such a facility, you should get in touch with Josh or Tom Harkins for the Resident Council.
As of now, over 20 residents of Sunnyside have tried VR using the headsets provided by the Tech Club, and this is in addition to all those who were introduced to VR at the Tech Faire in October. The Club has a great interest in promoting VR, especially in ways that would benefit those residents in Assisted Living and Health Care. To this end, it's critically important to have Independent Living residents trained to use VR equipment so they can assist others in exploring the creative and therapeutic possibilities of this technology.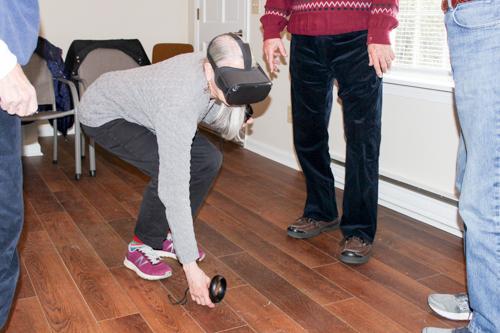 Recently, Karen Allen has been getting comfortable with VR, and she hopes to share that knowledge with caregivers and memory care centers so they can begin to use VR with patients. The promise of this technology extends to searching for appropriate venues that patients can use for enjoyment—trips to various locations such as hometowns and vacation spots, for example. A further hope is to encourage exercise and dexterity with patients using games, although Karen emphasizes, "Right now we are in the beginning stages with this technology."
Please contact Don Oxley if you'd like to assist in this effort. You can reach him at x. 8873 or through email—don@theoxleys.com.
--John Noffsinger