Babies and Blankets and Cradles and … Sleighs?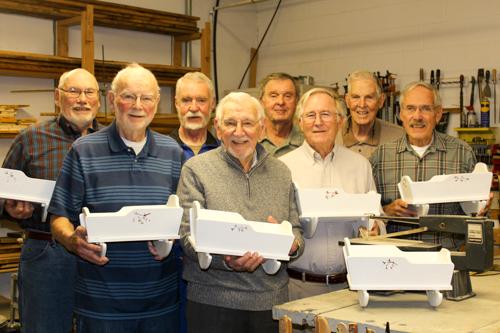 Yes, sleighs! The Woodworkers Group is adding a new touch to Sunnyside's tradition of creating Salvation Army cradles to hold the babies for delivery to little girls who otherwise might not have one.
Len rounded up some new carpenters to help out this year. He was joined by Stan Gray, Don Wait, Jack Thompson, George Gibbs, Bill Bedall, John Seaton, Bill Hain, Lud Creef, and Ben Cocker.  
In addition to the cradles, this year the group has built two sleighs.  It was not planned, but they came across a template for sleigh runners.  Lights flashed and Len Tulio, the leader of this merry band, said, "Let's make sleighs!"  So, they mounted two cradles to runners and that was it!  He said they came out just fine, but he already has improvements in mind for next year.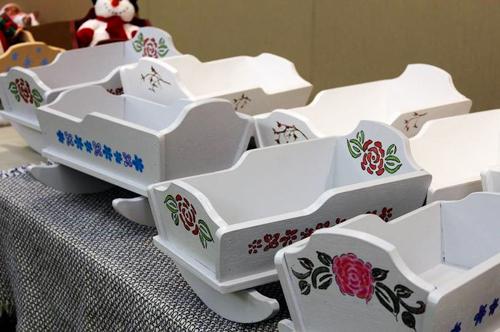 Len is still not into painting!  But, do something once and all of a sudden, "It's Tradition!"  This year, Mary Martin joined Fred Repass and Kella Cook in creating new art with which to decorate the cradles and sleighs.  "Cradles and Sleighs."  That just sounds right! 
Then the cradles and sleighs were ready for the babies and quilts.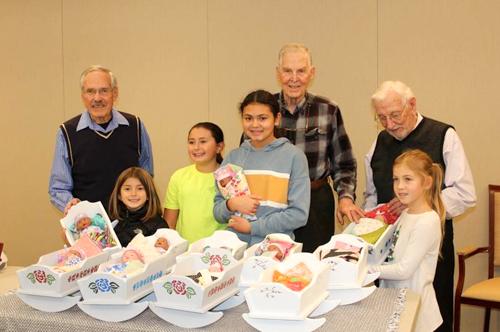 Brenda Balmer was on hand to help the young quilt makers.  This year, Mollie Balmer, Emma and Zoe Loflin, and Abby and Maggie Bloss made the quilts.  Their quilts reflected each quilter's love of colors and patterns.  Sunnyside residents Jane Lotts and Judy Bukauskas added the finishing touch with blankets for the babies.  Mollie, Emma and Abby attend Skyline Middle School, and Maggie and Zoe are students at Smithland Elementary School.
And so, the tradition continues.  Sally Meeth and Julie Bishop made it all happen, again.  And everyone plans to participate again next year.  It is a wonderful opportunity for Sunnyside residents and Harrisonburg residents join together to create these beautiful gifts for those less fortunate than they.
--Kat Marlowe