Fountain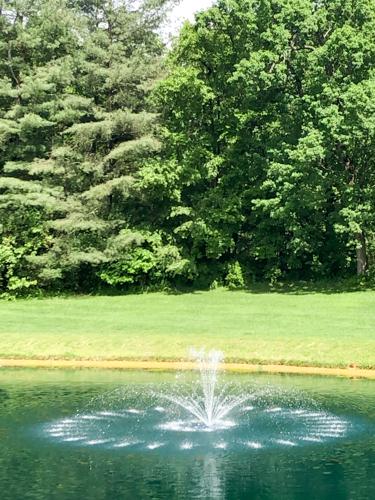 In the shadow of Massanutten Mountain There tinkles a magical copper fountain.
Fifteen plate-sized petals and five feet tall Recycled water splashes and gurgles in its tiny, constant fall.
At the foot of a charming amphitheater in Sunnyside's campus green The fountain matches the bells of matin with a sound of serene.
Several cottages look down upon a curious sight most rewarden' A continuous breath of mist at the edge of a backyard garden.
Driven by the mechanics of a pump in a large metal cup The waters trickle down in order to bubble up.
The fount has attracted fauna as large as a deer eager for a drink but carpenter bees and gray squirrels join an ark load of birds sipping at the brink.
Robins, doves, blue jays, cardinals, finches, splish splashing sparrows and an occasional crow, Seasonally, a hummingbird soothing his ruby throat, inbound from Mexico.
Listen to the mockingbirds, my they have a lot to say More tweets than Trump as they stand sentinel from the nearby forsythia where they stay.
In the seclusion of a Massanutten Mountain biome A fountain has cast its spell over the creatures who call it home.
Second in a series—J. W. Hanscom
Previously featured stories are archived and can be found here.