2019 Tri-Community Meets at Sunnyside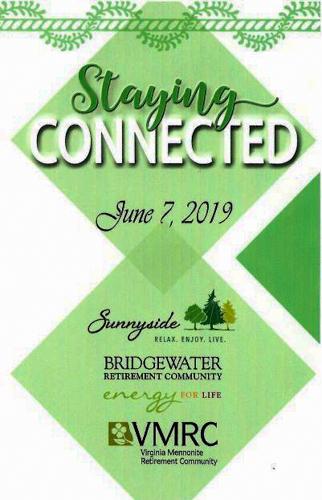 Residents and staff from the area's three main
Life Plan Communities
(Sunnyside, Bridgewater, and Virginia Mennonite Retirement Communities) have been getting together on an annual basis for over 20 years to share insights, experiences and fellowship during a day-long event, referred to as the
"Tri-Community Meeting."
 These meetings almost always include a "Key Note Speaker," campus updates from administrations officials, and reports from the respective resident leaders focusing on the year's designated meeting
"theme."
 This year Sunnyside hosted the 2019 Tri-Community Meeting on Friday, June 7, 2019.  Eighteen resident and staff representatives from Bridgewater and Virginia Mennonite Retirement Communities joined with twenty-one of their Sunnyside counterparts for a day-long event that started at 9:00 am and concluded at 3:00 pm that afternoon.
Long before the June 7th meeting, a select group of Sunnyside Resident Council members and administration staff came together to plan out the myriad of details necessary to put on an event of this nature.  In November 2018, then Resident Council President Carolyn Arbuckle appointed the council's Vice President, Tom Harkins, to head a committee to plan for Sunnyside hosting this year's meeting.  Tom assembled a planning committee which consisted of: Josh Lyons, Annie Shaffer, Nancy Wayland, Carolyn Arbuckle, Sue Barranco, Joanne Bell, Gini Reese, Kay & Jim Stilwell, Jim Kellett, and Charlie Scott. Their first planning meeting occurred on December 10, 2018.
Over the next five-and-a-half months the committee met and meticulously reviewed and worked out the details necessary to prepare for the June 2019 meeting.  Throughout the planning process the committee coordinated key details with the Bridgewater and VMRC resident leadership in order to ensure a successful meeting. 
One of the first things the committee accomplished was coordinating and establishing the Tri-Community meeting date of June 7, 2019.  Very soon after, the committee developed the theme, "Staying Connected," for the meeting.  Once the committee had an approved theme, they commenced a search to find an appropriate "Key Note Speaker."  Sunnyside Executive Director, Josh Lyons, led the effort and was able to schedule Scott Code, the Associate Director of LeadingAge Center for Aging Services Technology (CAST) to deliver the meeting's Key Note Address.
As we all know, food is an important issue for senior citizens attending day-long meetings.   Gini Reese took charge of planning the menu for the meeting.  She expertly coordinated with Dining Services Director, Linda Davis, and Chef Fred Schulte to arrange for a healthy, yet very tasty, menu that could accommodate varied tastes and possible diet restrictions:
Arrival Selections
Coffee, Tea, Ice Water, Scones and Fresh Fruit
Soup and Salad Lunch
Cold Gazpacho Soup Grilled Beef Tenderloin or Salmon served on Seasonal Greens with grilled Tomatoes and Roasted Hen of the Woods Mushrooms with Lemon Dijon Vinaigrette Rolls and Butter Panna Cotta & Fruit Dessert
One of the challenging issues that the planning committee needed to decide upon, was where the meeting would take place on the Sunnyside Campus.  The ongoing renovation of "The Highlands" provided a bit of a challenge, as it was the preferred location for the meeting.  However, in the end the committee decided to use the "Sunnyside Room" for the meeting site and the "1912 Bistro" for the lunch venue.  Many other issues such as program development, maintenance requests, housekeeping services, inclement weather contingencies, and set up were all discussed and planned out in detail over the months prior to the June 2019 meeting date.
June 7th arrived and so did our guests from Bridgewater and Virginia Mennonite Retirement Communities.  After an initial reception, Tom Harkins officially welcomed everyone to the 2019 Tri-Community Meeting and after a few administrative announcements, introduced Reverend Pat Spears who formally opened the gathering with an inspirational prayer.  Sunnyside Executive Director, Josh Lyons, provided an update on activities on the Sunnyside campus, which focused on our campus census, construction and renovation projects.  He then introduced Sunnyside Communities Chief Executive Officer, Jack Broaddus who also welcomed the meeting participants and talked about the importance and benefit of the tri-community meeting initiative.  Next Betsy Hay, Vice President of Wellness and Community Based Services for VMRC took the podium and passed on VMRC President Judith Trumbo's best wishes for a successful meeting.  She, like Josh, provided a VMRC campus update that focused on construction, resident activities, and the VMRC unique "Juried Art Exhibit."  Laura Spicer, Bridgewater's Director of Resident Well Being and Engagement, followed Betsy in providing an update on activities and happenings on the Bridgewater Retirement Community.  Laura focused her comments on the new "Wellzesta Program" – an iPad app that BRC independent-living residents use for communication and to know what's happening with activities in the Bridgewater Village. 
After a short break, the highlight of the 2019 Tri-Community meeting took place.  Josh Lyons introduced LeadingAge's Scott Code, Associate Director for "CAST."  Scott's address was titled: "Social Engagement Technology: Keeping You Connected."  For a little over an hour Scott engaged and captivated the meeting attendees with current and developing technology with possible major application to senior citizens, especially those living in Life Plan Communities.  He used video to demonstrate technologies being developed in the areas of personal assistant robotics, driverless vehicles, virtual reality, and hearing enhancements devices, to list just a few.  Scott's presentation was extremely well received and just may have been one of the best Key Note Addresses ever presented at a Tri-Community Meeting.
Meeting Attendees then moved to the 1912 Bistro.  The attendees from Bridgewater and VMRC Retirement Communities were given guided tours of the Highlands renovations prior to lunch and social engagement in the Bistro.  Testament to the quality of the lunch, was the loud round of applause that Chef Fred and his kitchen and wait staff received at the conclusion of the meal.
The afternoon was devoted to the respective resident leaders of the three communities providing updates and examples of activities on campus that highlighted our theme of "Staying Connected."  Betty Caricofe led off with a detailed demonstration of how the independent living residents at the approximately 500-resident BRC campus use administration-provided Apple iPads, loaded with the "Wellzesta program," to stay connected with the BRC staff and fellow residents.  The iPads were capable of sending email and text messages, as well as accessing daily events calendars, menus and various other activities within the Bridgewater Village.  Wayne Longenecker's brief described how the VMRC's "Juried Art Exhibit" served as a means for the approximately 700 residents of VMRC to stay connected on their campus.
The stage was set for Sunnyside's presentation.  Tom Harkins emphasized that Sunnyside's presentation was focused on specific resident-led initiatives that were being undertaken for residents to stay connected.  Don Oxley was called upon to provide a demonstration of the resident-developed and maintained "Sunnyside Times" website. Tom added to Don's presentation with a demonstration of the Amazon Echo voice-activated devices by Sunnyside residents for entertainment, emergency assistance/contact with a duty nurse and/or Sunnyside Security.  Tom then asked Kay Stilwell to provide a short briefing on the resident-operated "Sunny Treasures" retail store.  Frances Sale then gave a very informative presentation on the "Neighbors Program" that is effectively used to integrate new residents onto the Sunnyside campus.  Tom went on to provide numerous other examples of resident-led activities and programs designed to stay connected to all aspects of the Sunnyside community and the surrounding Harrisonburg/Rockingham County communities in general.  Programs and activities such as:  the Employee Christmas Fund to show appreciation to each staff member with a monetary Christmas gift; the Senior Readers Outreach Program to read to Peak View Elementary Kindergarten and First Graders; the "Sunday Soiree" benefit event to raise awareness for Sunnyside's Fellowship Fund that raised over $100,000.00 for that cause; extensive volunteer participation in community outreach programs with Harrisonburg's First Presbyterian Church and RMH; initializing technology improvements for the two Sunnyside libraries to form a digital data base through "Tiny Cat" scanners, and to partner with the Massanutten Regional Library to implement their "Overdrive" digital book-lending program to residents here on the Sunnyside campus; and last (but not least) a resident-led Travel Program to visually take aging residents to far away and exotic destinations they are no longer able to travel to. All these discussion areas demonstrated how Sunnyside residents were leading the way to stay connected with each other, staff and the surrounding community.
The 2019 Tri-Community Meeting ended with all attendees satisfied that the shared information and fellowship were very beneficial.  Next year Bridgewater Retirement Community will be hosting the 2020 Tri-Community Meeting.
By: Tom Harkins