The Broaddus Vitality Center
Sunnyside broke ground on the Broaddus Vitality Center last October, and since that time we've all watched eagerly as the building rises on our campus. The Center is now under roof, and this week Annie Shaffer and Layna Erney are leading tours from Monday through Friday at 4:00 and 4:30. Groups are kept small, however, so it's necessary to register rather than just show up. If you're interested, please call either Annie or Layla to sign up.

Construction projects often seem large as buildings start to fill the foundation footprint but smaller when they're enclosed and you're looking around from the inside—not so with the Vitality Center. There is almost 13,000 square feet of space, and perhaps one thing that makes the size so impressive are the soaring (and beautiful) ceilings. The men's and women's locker rooms are spacious, and there's even a family locker room, which will allow caretakers and residents of opposite sexes to use a common space. Both the pool (20' x 56') and spa (10' x 10') are far larger than those in the current Wellness Center. The pool will vary in depth between 3.5 and 5 feet, and the "floor" of the pool will slant along the shorter rather than along the longer axis.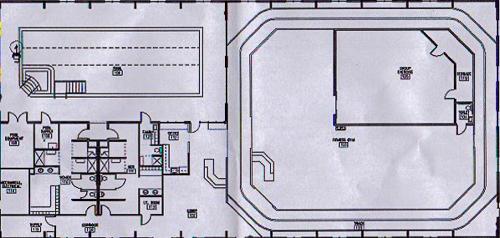 On the other half of the Center will be located the group fitness studio (1,237 sf), complete with a long wall of mirrors, and an L-shaped open space (2,710 sf) for strength- and cardio-equipment. Around the combined space of the exercise and equipment rooms will be an indoor track of 1/20 of a mile. In addition, there are two office spaces near the front entrance and behind these offices a large foyer with a reception desk.
Amenities for the Vitality Center include wireless connectivity throughout the building as well as Voice, Data, and Television networks. Cameras will provide security, and three or four 60-inch televisions will offer visual stimulation. Future plans include the capability of video broadcasting, so, for example, an exercise class could be accessed through Sunnyside's channel 971.
Harman Construction estimates that their part of the building project will be completed by December of this year. An "official" opening can't yet be determined, however, because after major construction is completed, much equipment will need to be set up and the pool readied and serviced. Still, this gives all Sunnyside residents something to look forward to in 2021!