A New Wellness Initiative Is Coming!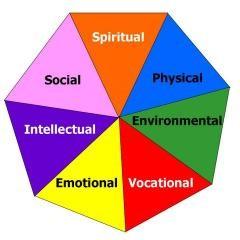 The Sunnyside community is currently engaged in a lengthy process evaluating the wellness needs of its residents and staff. Because these needs change over time, the
status quo
can never be maintained, and it's clear that Wellness Center Director Annie Shaffer is not interested in the
status quo
—she's always looking for the program to get better, and of course over the years it has.
In fact, the wellness programs at Sunnyside have over the years won a substantial number of awards, including four "industry innovator" awards (2006, 2009, 2015, 2017) from the International Council on Active Aging (ICAA). In 2010, Sunnyside also won the NuStep Pinnacle Award, the most prestigious recognition in the industry, which is granted to one institution per year, not for specific initiatives but for a broadly-based program of wellness.
Just consider how far Sunnyside has come. Twenty years ago the wellness program at Sunnyside consisted of some donated fitness equipment, including a bike, and residents formed an exercise class (with no leader) simply to try to keep physically fit. In fact, twenty years ago maintaining "fitness" or "physical health" was the rather limited concept of what wellness was rather than the comprehensive, seven-dimension model used today.
When Cathy Getchel arrived in 1997 as the first director of the Wellness Center, she started the wellness program, designed the pool and locker rooms and outfitted the fitness room. At that time there was no group exercise room, and the current physical therapy room was used for conferences. Cathy added some PACE exercise equipment.  (This was state-of-the-art in 1997, although it seems antiquated now. It was based on hydraulic resistance rather than weights, with oil-filled cylinders that sometimes leaked on the floor!)
In 2000, Annie Shaffer arrived as Wellness Director, and since then many innovations have come about—besides replacing all the original PACE equipment with truly state-of-the-art physical training machines, there has been substantial expansion in other areas as well: pool hours have been expanded, wellness and cardio classes have been added, and massage therapy is now available. In addition, many employee programs have been offered; for example, swim classes for employees' children are offered twice a year. And the Wellness Center is now open 24/7 for both residents and staff.
Sunnyside has moved beyond the earlier, narrowly-defined concept of wellness solely as physical fitness. One has only to look at the monthly edition of The Funside to see this. In an earlier day, there were perhaps four or five lectures/workshops a year to provide intellectual stimulation to residents, and now there are about 20-24 special programs a month. Other opportunities abound as well, certainly including the physical but also expanding into the six other dimensions of a holistic concept of wellness:  spiritual, emotional, vocational, social, environmental, and intellectual.
So with its new Wellness Initiative, Sunnyside is now ready to move into the next level of assisting residents and staff on their journey toward wellness. This is, of course, an idealistic goal and ultimately one that is impossible to attain; but after all it's the pursuit of wholeness that is important, and that pursuit involves remaining open to new possibilities in one's life.
One of the things that prompted the current Wellness Initiative is the residents themselves—their expectations are changing, and they wish to be more active and to have more flexibility and variety in their approach to wellness. Residents also tend to come into Sunnyside having had more formal ways to get physical exercise—for example, through having joined athletic centers that have strength training equipment. And there's a marketing aspect as well—in a recent survey 71% of residents at retirement facilities reported that a strong wellness program was one of the main reasons they selected their particular community.
The plan is to involve residents and staff at every level of examination and discussion of the current program and of future needs. Currently a Wellness Initiative Committee consisting of Josh Lyons, Annie Shaffer, and six residents (Don Oxley, Lynda Gibbs, Bill Engel, Jim Kellett, Bob Long, and Len Tulio) has been formed. They will conduct in-person interviews of 60 residents divided into five groups based on current usage of the wellness facilities. The committee is also crafting a survey that will be distributed (in both digital and paper formats) to residents, assessing their sense of the wellness program. More focus groups will then review and evaluate the data gathered by these surveys and come up with a plan about how next to proceed . . . so stay tuned as the Wellness Initiative continues to unfold and develop!
--John Noffsinger