Strawberries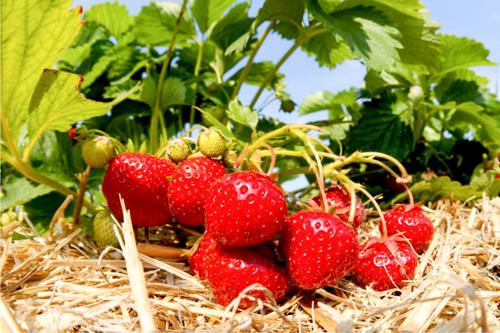 Spring is such a delightful time of the year for a young fellow who is twelve-teen years old and always hungry. This is the time of year when farmers begin to bring out their beautiful tractors to plow the big fields. Oh the wonderful smell of dirt! The gardens go in first and the potatoes go in during early February. Each month more new seeds are planted until the garden is completely planted.
Daddy's father lived next door and he had a beautiful red Farmall cub tractor that made blue smoke. We thought it was a broken piston ring. As long as it would start and pull the plow there were no plans to tinker with it. Granddaddy had been a Navy Warrant Officer tugboat Captain during World War II. He still ran one for the Richmond Cedar Works. He pulled huge cedar logs out of the coastal areas of eastern North Carolina to the log mills. Mostly retired he was a farmer with chickens, hogs, corn and a huge truck farm garden and I hung around for any chance to drive that beautiful red tractor.
Daddy's Uncle Rufus lived across the road and he was also a retired tug boat Captain who farmed a small farm. He told the best stories from his days when he was a real live train-riding hobo alcoholic with an itch to ride those box cars. His nose had been broken many times because according to him, drunk hobo's like to fight. He rode all over the country during the depression and claimed it was his college education of travel.
Hobos must learn from each other the places that will give you food and the other places that will shoot at you. Hobos have a code, they will not steal from each other and if you do not contribute to the pot of mulligan stew, don't expect to eat. Uncle Rufus was a man of principle, he had worked his way up from deck hand to commercial tug boat Captain. If a crew member got drunk or smart mouth and needed some "learning" he was always ready to provide it and he had the nose to prove it. He had a little orange economy tractor but it had to be started with a rope, it would kick back and toss a kid for a loop, and it did a couple of times. Not fun!
Over the years we had four different tractors but when daddy needed money for a special event like a roof leak or new baby, he would sell the tractor. I had two sisters and three brothers and even today when I look at them, I still see all of those tractors he traded for them.
I made no effort to hide my lack of enthusiasm for school and I never hesitated skipping school in the Spring. I remember talking to Uncle Rufus one time to find out how old I had to be to become a hobo. He laughed and asked what grade I was in, I told him I was half-way through the eighth grade. He said, "Well they won't let you join until you have at least a tenth grade education." School got better in the ninth grade. They had Agriculture class and I was able to join the Future Farmers of America. Our class project was to overhaul an International model C tractor. All of the students were farm boys and we were taught to weld, do plumbing, wood working, metal working and how to measure trees for pulp wood. To raise money for the club we made popcorn for all of the home football games, and that one day we could eat all of the popcorn we could hold. I had a big appetite in those days, daddy said I was the bottomless pit.
But I must digress to when I was in the gray zone between twelve and thirteen years old, a time when boys only think of food. The girls that age are already looking over the herd and deciding who is going to take them to the prom in six years.
It was a delightful Spring day, birds were singing, flowers were blooming and the air smelled sweet. I dragged myself onto the big yellow kid collector for my ride to the Institution, where the drill instructors were waiting. I could see farmer Ward on his pretty gray 8N Ford tractor turning dirt with his two bottom plow. Gosh that looked like a great way to spend the day. As I took my seat, I just happened to see three rows of beautiful red strawberries. Our bus stop was right beside Uncle Rufus' garden and those big juicy red strawberries were burned into my juvenile psyche! My day was consumed with planning my stealthy idea to eat my weight in juicy red strawberries. This was going to be a day to remember, little did I know.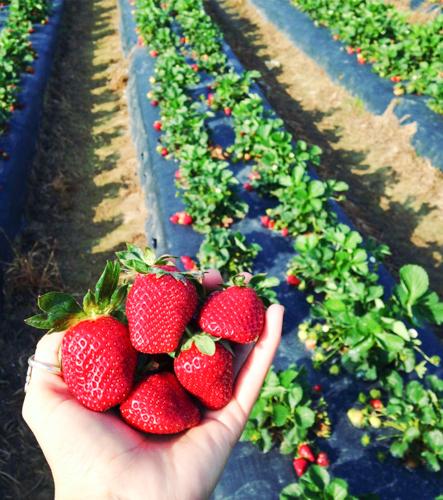 I would just calmly get off the bus, go in and change out of my school clothes and drink my cold glass of milk and go out the back door. I would lock my dog Rex in the barn. He was too large to take on this mission, and he had a big mouth and loved to bark. I planned to carefully execute my idea, make a big circle and enter my target by 1600 hours (that is 4 pm for civilians.) The shadows were growing longer and the strawberry patch was completely in the shade as I dropped to the low crawl position and began my stealthy crawl like the 80-pound termite I had become. They were more delicious than any I had ever eaten, I noticed fresh foot prints which meant that one row had been picked. That was ok, I only wanted one row. As I neared the end of the row, I was full and planned to run across the road and end this mission.
A loud familiar voice yelled, "Are they good"? I looked up and recognized Uncle Rufus' boots… I confessed they were. "That is good," he said, "because you have another row to eat." I confessed again, "I don't think I can"… he insisted, "give it a try", I glanced a look at his nose and crawled over to the next row. "Really Uncle Rufus, I can't eat anymore as I ate one." It became obvious he had a plan … his plan was, do we go see your daddy so you can borrow the money to pay for your meal or do we handle this between us? I agreed to stay out of his garden and to cut his grass all summer.
Mom and Daddy knew the whole story but no mention was ever made of it for many years. To this day strawberries are not one of my favorite things, I prefer popcorn.