Meet Art and Jeannie Swygard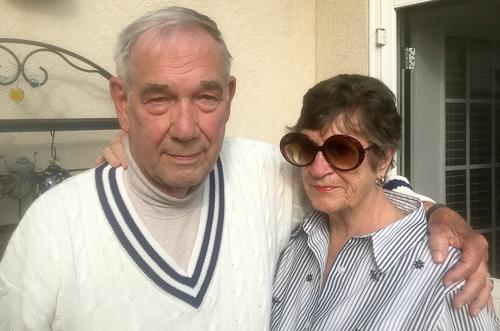 Meet Art and Jeannie Swygard who live at the Vista Glen Villas.  And when Art says he has lived all over the world he isn't kidding.  Just read on!
Jeannie was born in Barborsville, KY and went to college at Purdue University.  Art was born in St Louis, MO and went to the University of Missouri.  He then joined the Air Force as a navigator and lived in Nebraska and Spain.
They met in Dayton, Ohio at the dry cleaners.  Art got some hangers from Jeannie and it was love at first sight. They have been married for 58 years. They have two married daughters. One in Chapel Hill, NC (with two grandchildren) and one in Leesburg, VA.
Together they have lived in Ohio, Florida, New York, Texas, Indiana, Wisconsin, Tokyo (to establish business in China), California, North Carolina and now Virginia. After the Air Force, Art's career was in lasers. He was part of moving the industry from "solutions looking for problems" to "identifying solutions to address problems." He worked with research, design, medical and other types of companies to develop exciting new uses. In addition to helping the family settle during each move, Jeannie owned a bookstore. Her favorite part was meeting people. In Tokyo they enjoyed a part of the local hardware store called "Hands" that would make anything you asked for.
They have also been on at least 15 Road Scholar programs. They enjoy bridge, reading and opera. Their cat's name is Timeshare because she adopted them - coming to visit, leaving a few times, and dramatically coming back to stay.
They moved from their retirement home in Hendersonville, NC to Sunnyside to be near their daughter and for the opportunities afforded by being close to JMU for cultural events. Jeannie would like folks to know she has a speech impediment. She loves to chat, it just takes a bit of time for us to listen. Art is still part of a writer's group in NC that meets virtually. Art continues to publish.
At the holidays their family loves to get together no matter where they are. Many holidays have been at the beach. Their favorite is Emerald Isle. Many years ago Art's mother wanted to have a special drink to mark Thanksgiving so she started the tradition of drinking Manhattans. As a teen, Art remembers being the bartender. They have a lovely deck on their villa where they can toast another Thanksgiving looking at the mountains.
--interview and photo by Cindy Westley