Meet Carl and Lee Palmer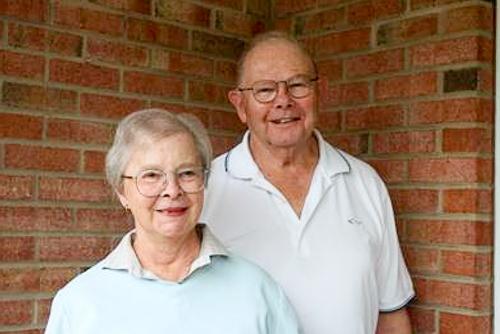 The Palmers joined Sunnyside in September 2020 and live in the Glen. They reside here most of the year but consider themselves 'Snow Birds' who go to Sanibel Island in Florida over the four winter months. Carl and Lee moved here to be closer to their two children and one grandchild. When going to their house, it is apparent they take great pride in working on their home greenery and pampering the various shrubs.
Carl was born in Oakfield, NY, located between Rochester and Niagara Falls, and went to Penn State University where he received his PHD degree in Business Administration.
Lee was born in Williamsport, PA but has lived with Carl in VA for more than 30 years. Lee went to Bloomberg University in New York and received her BA degree in Elementary Education. She is a retired preschool teacher who taught for more than 20 years.
Since moving to Sunnyside with the Covid-19 virus problems in the state, they haven't had a chance to become involved in our Sunnyside activities. They enjoy working on ancestry, genealogy, gardening, and birding. Carl also likes to play golf. They also have a cat to keep them company.
Both would like to volunteer themselves in Sunnyside activities so they can meet more people. They have worked at Chincoteague National Refuge as volunteers before moving to Sunnyside.
The Palmers are both a wonderful addition to our Sunnyside Community. Be sure and welcome them.!