Meet Carol and Don Wait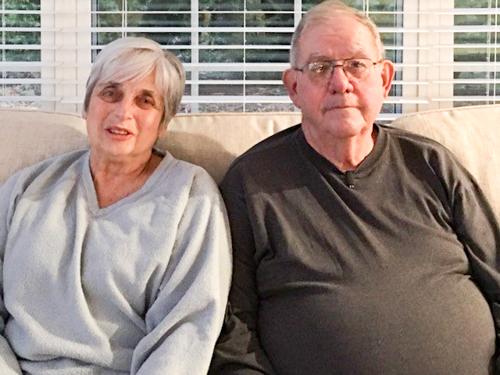 Carol and Don Wait moved from Stanly County, NC into a Highlands apartment in early September until their unit at 1040 Glen Lea was refurbished, which they occupied in November.  Their home near Lake Tillery in Stanly County was their 'retirement home' for 14 years (Don's 'retired' three times!), and they've lived in seven states!
Carol was born and raised in Detroit, Michigan, and Don grew up in Ohio; they met at Michigan Tech, on the upper peninsula of Michigan.  (Safe to say the worst winter they'll see in Harrisonburg, by comparison, will feel like a spring picnic day to them!)  Both had careers working for Corning Inc - Carol as an analytical chemist in the research department and Don as a manufacturing engineer.
They chose Sunnyside for its location near one of their kids, a daughter and her family who live in Waynesboro.  They also have two sons and six grandkids (with two more 'on the way' by upcoming marriage) and one great-grandchild in Kentucky who'll be one year old in December.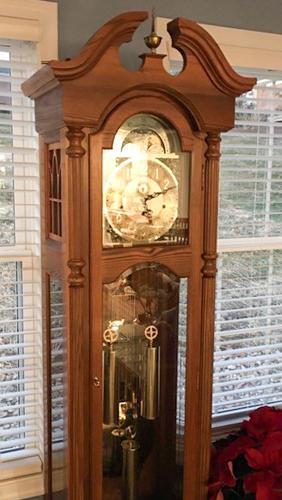 Don's favorite hobby is woodworking, and he's built several pieces of furniture including four magnificent grandfather clocks, one of which is shown here. 
Carol's into knitting, reading, water aerobics, and cooking, but they share a passion for travel. They've visited all seven continents and 49 states!  And they're off again for several weeks in January to England and Ireland to visit a granddaughter in graduate school in Dublin, and to attend a grandson's graduation from King's College in London.  They plan to continue their passion for travel as long as health permits and consider their life at Sunnyside "always an adventure."
--Jim Kellett, Resident Curmudgeon "The older we get, the better we were" - Lewis Martin