MEET DAVE AND RUTH POOLE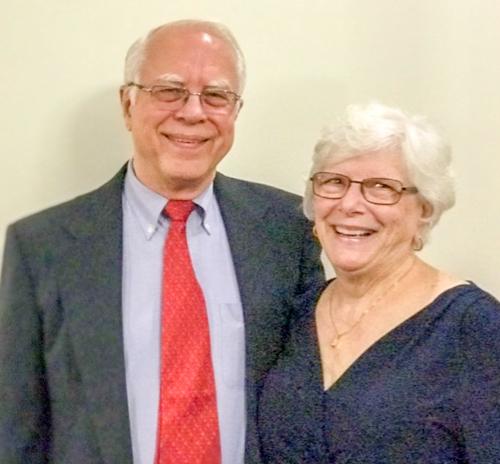 While many folks at Sunnyside have interesting and unusual professional backgrounds, that of Dave and Ruth Poole might be unique. They were both working as clinical social workers in Harrisonburg when Ruth was diagnosed—falsely, it turns out—with Meniere's Disease, and it was predicted she'd lose her hearing, obviously not a good thing when one's professional life depends on careful listening. So she and Dave looked around for another career and opted to open a framing store, The Great Frame-Up, in Charlottesville. They wound up doing this for 20 years, until their retirement in 2008. This is a good illustration about how quirks in our lives can turn us in unexpected directions. Dave and Ruth moved to their Glenmoor cottage the week before Thanksgiving, although they had actually lived in one of the Woodside "Six Pack" apartments for five weeks until renovations were completed on their cottage.
Both Dave and Ruth are "preacher's kids," a background that has earned its own acronym--"PKs".
Although born near Pittsburgh, Dave grew up in Georgia, Alabama, South Carolina, and North Carolina, and he considers himself a "child of the Southeast." He did his undergraduate work at Davidson and received his master's degree in Social Work from Tulane. But between these academic studies he spent two years in the Peace Corps in Kenya. Ruth grew up in Pennsylvania, West Virginia, Virginia, and Kentucky. She completed her undergraduate work at the University of Kentucky and like Dave received her master's from Tulane.
Dave and Ruth love to travel and have been to over 50 countries. They've done a number of mission trips to Honduras through their church, Peace Lutheran in Charlottesville, but have also been to Cambodia, Jordan, and Israel, as well as up the Amazon, to Machu Picchu, and to the South Pacific Islands. One of their most memorable journeys was a cruise from Santiago, Chile and around Cape Horn to Rio. On their wish list are trips to Alaska and to the Scandinavian fjords.
Ruth explains that her passion is volunteering, and she felt especially fulfilled when donating her time to working with Loaves and Fishes, a food pantry in Charlottesville. Some of Ruth's other interests are knitting, reading, and cooking—though she laments that the latter activity has become more complicated given the difficulty of accommodating people's various gastronomic needs and desires (e.g., vegetarian, vegan, gluten-free, shellfish allergies).
Ruth and Dave consider themselves fortunate in that their two sons and their families live in the Charlottesville area. Their older son, Mike, now owns and manages The Great Frame-Up, and their younger son, Mark, works in construction and renovates houses.
Although Ruth and Dave miss their close friends and neighbors in Charlottesville, they both look forward to what Ruth calls "the promise of community" in Sunnyside. Dave loves having turned over the responsibility for home maintenance to the Sunnyside staff and enjoys the "built-in community" that Sunnyside provides.
When I asked Dave what people would be surprised to learn about him, he responded, "For a PK, I have at times a fairly colorful vocabulary." On a more serious note, he reflected that for almost 60 years church seemed irrelevant to him, but in the past fifteen years the church community has "inspired" him and led to spiritual growth.
Please welcome Dave and Ruth into our community!
--John Noffsinger