Meet Fred and Betty Shafer
--by Jim Kellett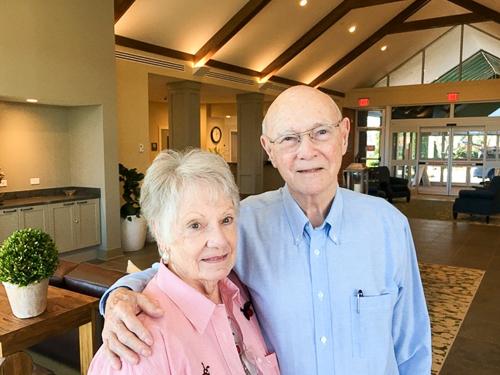 Fred and Betty aren't exactly "new". . . .they moved into Highlands 212 in November, 2019, and before anyone could schedule a "meet your new neighbor", we were struck with the pandemic that shut down interviews. Better late than never, though!
Moreover, they're more than familiar with Sunnyside, having been supporters for more than 20 years, since they've lived in the area for decades. They always knew they wanted to live in a CCRC, and they reviewed dozens all up and down the east coast before settling on 'the place already at home'. True, they once moved to Florida for a year at the insistence of one of their sons, but it didn't take long for them to miss the valley and all their friends, so they moved back. They love it here, and credit the location and the amazingly helpful marketing staff who were so patient in showing them many options (starting with one before the Glen was even constructed) for making their eventual decision so easy.
Betty was born in DC, but grew up in Maryland where she met Fred (born in Victoria, VA) while both were in high school in Maryland. The childhood sweethearts were married in a double wedding with Betty's older sister (bet the parents loved that deal!) 64 years ago. They have two sons; one lives in Williamsburg and has a daughter. The other lives in France (yes, he married a French girl and it stuck!) who has one son who now lives in Shenandoah and who, in turn has a daughter.
Fred owned a local travel agency, "Travel Pros" until he sold it in 1985. It's no surprise, then, that the Shafers travelled a lot over the years! One of their more memorable visits was to a French village where, during the occupation in WWII, everyone in the village was killed in retaliation for one farmer refusing to give a hog to the German soldiers! The villager survived by hiding in the wine cellar. Plus, after he sold the business, he became involved with a writer in Elkton who was an Anglophile fanatic, and wrote many articles about the UK. When his readers as a result encouraged him to provide advice and travel, he and Fred teamed up providing travel and rentals in England, Spain, France, Wales, and Italy.
Betty's career included a stint in the Treasury Department, then with OSI at Andrews AFB supporting Air Force One during the Reagan administration. She also worked as a receptionist at Dunham- Bush, manufacturers of HVAC equipment, which was then located where the large shopping center that hosts Wal-Mart now stands. While there, she experienced a little adventure that you'd be hard-pressed to guess – seven of the employees pooled their funds to purchase a Virginia lottery ticket and, yep, THEY WON! Fortunately or unfortunately, there were several other winning tickets and ticket holders and the prize was eventually split so many ways the final winnings were useful, but not big enough to corrupt the Shafers.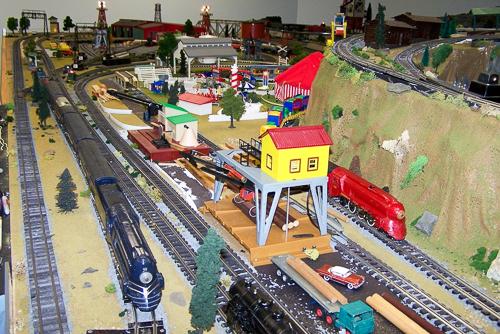 What did they do for fun (other than travel, you say?). While Fred was an enthusiastic and accomplished model train collector of American Flyer S-guage, he had an entire room devoted to a layout complete with villages, many multiple tracks, lakes and rivers, and much, much more. He was also a serious collector of trains and parts, participating in many shows in the mid-Atlantic area. Before moving to Sunnyside, he contemplated having a 'train room' added to a Glen cottage, but later decided to divest himself of the collection when they moved into the Highlands instead. Today he enjoys exploring the world through his computer, and reading.
Betty is enthusiastic about hand-quilting, and is currently working on a project.
Say "hi" to the Shafers at valleystation@comcast.net, mobile (540) 246-4795‬, or 8703.