Meet Les and Joni Grady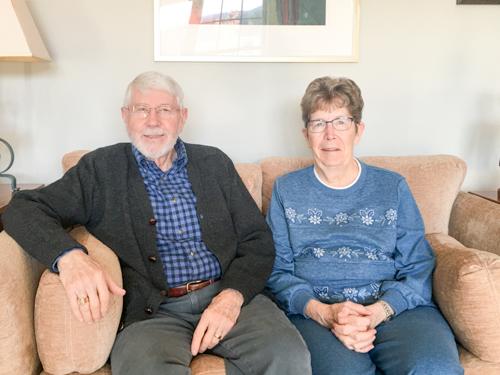 Les and Joni (pronounced "Johnny") Grady moved from "across the street" in Preston Lake to Sunnyside in August and have very quickly settled in, made new friends, and joined in Sunnyside activities. Their cottage is at 1670 Glenside Dr.
They'd planned to retire in a lovely home they'd built on a ridge, with views of the mountains, near Clemson, SC where Les taught environmental engineering for 29 years at Clemson University. But when the first grandchild came along, to a daughter living in Luray, Joni decided they'd rather be close to the family than the view, and moved, in 2010, to Harrisonburg!
They met as undergraduates at Rice University and will soon celebrate the 60th anniversary of their first (blind) date! After Les got his Master's degree at Rice and spent two years in the Army, they moved to Oklahoma State University for his doctorate, and then on to Purdue University where he taught environmental engineering for 13 years, 1968-1981. Meanwhile, Joni built her career as a librarian, making them both professional academics!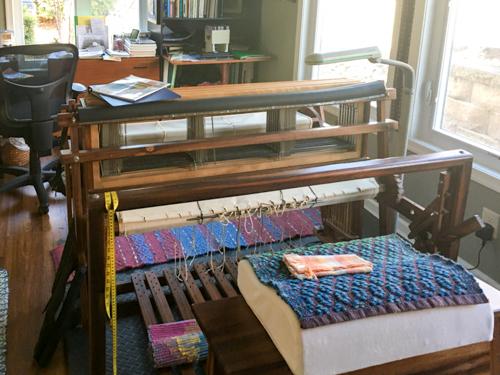 They certainly epitomize Sunnyside's motto of "Adding Years to Life"! Joni is an active weaver, using a loom built from rosewood by her father! Samples of her work decorate their cottage as rugs, placemats, and other works. She's also a student of the history of the Shenandoah Valley to learn much about their 'new' home. Les' hobby is glasswork, and he has a nice little glass workshop built into the end of their garage, where he creates all kinds of fused glass, glass silk-screens, and other art works.
Their cottage also serves as an art gallery from their years of collecting objet d'art, including paintings (three of them by Joni's brother Jim), drawings, small sculptures, etchings, and various glass pieces.
But it's not "just" hobbies that fill their days - both are very active in the Climate Action Alliance of the Valley (CAAV), and Joni serves as the secretary to this group. This is a twelve-year-old advocacy and educational group that sprang from the work of Cathy Strickler, whom the Gradys met at the local Unitarian church where Cathy spoke about CAAV's activities. Their passion for the environment is also illustrated by their plug-in hybrid auto.
Les' academic work continues - he's taught three Lifelong Learning Institute (LLI) classes on climate change, and the next one, which started February 5, is a team effort between Les (on the science and engineering aspects) and his partner Dave Pruett from JMU (on the social and political aspects). He's also a frequent public speaker on the general area of environmental science, with an emphasis on climate change. Les also publishes a weekly newsletter roundup of climate and energy news, distributed by email to CAAV members and others.
So, say "hi" to your new neighbors and learn how to be an advocate for climate science, sustainability, and art! Les can be reached at lesgradyjr@gmail.com and Joni at jonigrad@gmail.com.
--Jim Kellett