Meet Paul Staley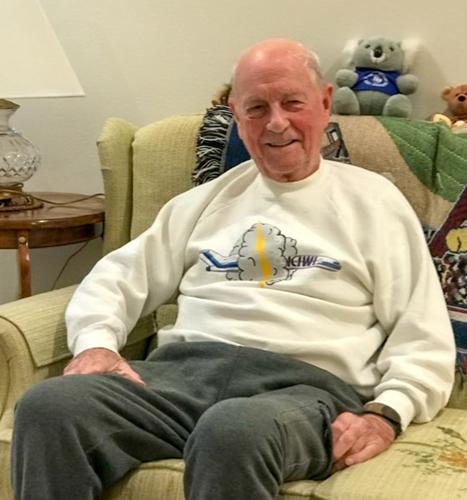 After spending the last 25 years of his life near Chambersburg, Pennsylvania, Paul Staley moved to Sunnyside last October, at least in part to be closer to his two daughters. Paul had the unusual experience of staying in his cozy Woodside apartment as a Staycation, but he liked it so much Sunnyside agreed to make it available to him as a permanent residence.
Paul was born in Waynesboro, Pennsylvania but at the age of four moved to Baltimore, so he spent much of his childhood by the Chesapeake Bay. After graduating from high school, he began working in Baltimore at the same company where his father worked but was drafted by the army in 1953, during the Korean War. In basic training at Breckinridge, Kentucky he was encouraged to apply to Officer Candidate School, so at the age of 20 he was sent to OCS at Fort Sill, Oklahoma. He took his training further by getting certified to fly, earning his wings in 1955. After getting out of the army, Paul spent two years at the University of Maryland before beginning a long career at Eastern Airlines.
Paul began piloting for Eastern in 1957, flying out of New York City, Atlanta, and then for over 25 years out of Washington, DC. He had a 30+ year career that he loved: "Being a pilot was a wonderful career. Every trip was different and challenging, and it gave me the opportunity to meet many good and interesting people." In addition, Paul loved the aesthetic dimension of flying—for example, breaking out of cloud cover to see the beauty of the sun. Ironically, Paul doesn't like to travel now because "the seats are so cramped they've morphed into bus seats, and there's a herd mentality" that he finds unappealing.
After the economic collapse of Eastern, Paul and some colleagues started up Kiwi Airlines, which despite its name was based in New Jersey rather than in New Zealand. He worked there from 1992-2000, though now that company, like Eastern, is no longer in business.
Paul enjoys being at Sunnyside and is staying busy by working out in the Wellness Center three times a week as well as taking two weekly exercise classes in the pool. He's gone on several Sunnyside-sponsored musical trips to JMU. He is also happy being closer to his family. His two daughters, Lisa and Lori, live in the Woodstock area, and his grandchildren live near Bridgewater. Lisa is a graduate of Bridgewater College and used to work for Merck and Rubbermaid, while Lori has been involved in community theatre around Woodstock and Edinburg for over thirty years.
When talking to Paul, one picks up easily on his enthusiasms. He's a pilot at heart and greatly interested in aviation in World War II. He's particularly knowledgeable about Doolittle's Raiders and in 2002 had the opportunity to meet some of the survivors of this raid at their reunion in Columbia, South Carolina. And in yet another connection to the war, one of Paul's aviation instructors flew in the final mission over Nagasaki.
If you don't find Paul around the Sunnyside campus, you might run into him at a local restaurant, for he frequently has meals at Wood Grill Buffet, Olive Garden, and McAlister's. And when you do run into Paul, please make him feel welcome!
--John Noffsinger