Meet Ross (Whit) and Joan Krumm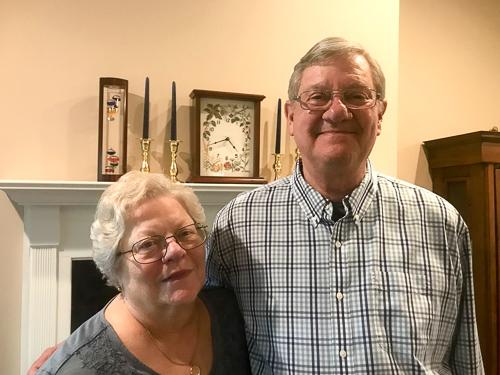 Before coming to Sunnyside, Whit and Joan called Harrisonburg home. Whit is half of his middle name Whitcomb. Whitcomb is the name of an Army surgeon who operated on his father at Walter Reed Hospital during WWII. His first name, Ross, is the last name of his uncle. So, he has three last names but answers to Whit. Whit was born at Walter Reed. Joan was born at the Naval Hospital in Astoria, Oregon. After WWII, her mother joined her father there for a year until they returned to the family home on Long Island, NY. They enjoyed many years of summer on Long Island until they bought a condo at Smith Mountain Lake in 2003.


Whit went to Gettysburg College for a BA in Political Science and then UVA School of Law for a JD. Joan also went to Gettysburg College with a degree in History and Education. She worked on Wall Street and later taught elementary school in Orange County. She earned her Master's in Education from UVA on the same day Whit graduated and continued teaching and volunteering until her daughter was born. Later she worked in Whit's Law Office until he became the U.S. Bankruptcy Judge in Harrisonburg.


Whit's hobby of woodworking was a result of his father-in-law who was an orthopedic surgeon but claimed to be just a frustrated carpenter. Also, he was mentored in cabinet making by some of the best wood working craftsmen in the Shenandoah Valley. He has been raising African violets since 1987 when he rescued 4 dying violets from Woolworths on Court Square. Also, Lillian Thomas, who is now in Assisted Living, shared her expertise when she and her husband, Dick, lived in Waynesboro. Whit's violets come from as far away as California and outer space (one of his plants was progeny of African violet seeds that were sent into space to see if that had any impact on their growth).


Joan enjoys knitting, counted cross stitch, cooking and playing handbells. She has been involved in school, community and church activities. Whit has a long history of community service in the Harrisonburg Rotary Club. He served in the US Army Reserve. They enjoy traveling to historical sites. Joan grew up on the Eastern End of Long Island where she enjoyed sailing and motor boating. Whit and Joan owned a condo at Smith Mountain Lake from 2003-2019 and they have many wonderful memories of their time "at the lake".


Their daughter Amy and her husband, Randy, live in Penn Laird. Joan and Whit have 5 grandchildren and one great grandchild. Hannah, their golden retriever, greets everyone who passes by Aberdeen Loop.


They learned about Sunnyside from living in Harrisonburg and being a member of First Presbyterian Church and felt it was a right time to make the move. They have been here a year, having moved in 6 weeks before the Covid 19 shut down, but are looking forward to getting to know more folks as the world opens up.


--By Cindy Westley