Welcome to Martha Hopkins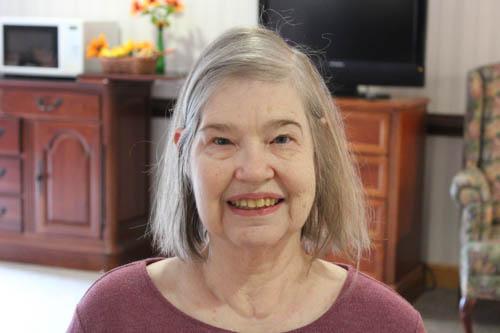 Martha Hopkins moved to Sunnyside last July and lives in the Highlands, Apartment 319. She has come here from her home in Alexandria, VA, where she lived for 34 years. She retired from the Library of Congress after an almost thirty-year career there.
Martha grew up in Rockbridge County and finished high school there. She loves the Valley and is happy to be back in the area. Martha retired in 2014 and more recently made the decision to move to a retirement community. With a sister and brother-in-law in the Harrisonburg area, she knew about and chose Sunnyside. She also attended camp and youth events at Massanetta and worked there during some summers while in college. Her brother, a Presbyterian minister, serves a congregation and lives near Staunton.
Martha graduated from the College of William and Mary as an English major and especially loves Shakespeare. In 1974 She earned a master's degree at the University of Virginia. Her thesis area was … Shakespeare! She loves all things English, and she was able to live in England for a year at Oxford and work for a publishing company there.
Back in the USA, in her early career she taught English at Glenville State College in West Virginia for seven-and-a-half years. Among the courses she taught was … Shakespeare! Visiting friends in the DC area over a period of time, she came to enjoy the "Big City" atmosphere and cultural opportunities. Friends there encouraged her to seek employment there. She applied for positions and landed a job at the Library of Congress in 1985.
Her positions at the Library of Congress included serving as a Senior Editor for five years and as an Exhibit Director for 23 years. In this position she worked on and supervised the creation of a large number of public exhibitions created by the Library. She worked with lots of different departments and the LOC Conservation Department. Some exhibitions that Martha directed and was involved in at the LOC are listed below.
We welcome Martha Hopkins back to the Shenandoah Valley and hope that she will have many more adventures and opportunities to make friends and share her talents and interests here at Sunnyside. * * * * Here are some exhibitions that Martha directed and was involved in at the Library of Congress:
John Bull & Uncle Sam: Four Centuries of British-American Relations November 18, 1999–March 4, 2000 Brings together for the first time, treasures from the two greatest libraries in the English-speaking world—The British Library and the Library of Congress—in order to illuminate the relationship between the two countries.
The Wizard of Oz: An American Fairy Tale April 21–September 23, 2000 Looks at the creation of this timeless American classic and traced its rapid and enduring success to commemorate the 100th anniversary of the book's publication.
Language of the Land: Journeys into Literary America August 5, 1993–January 18, 1994 Offers a tour of four sections of the United States through literary maps that focus on geographical areas, individual authors, and particular works. Features passages from authors whose works are rooted in a particular place, as well as images of the places.
(Martha is the author of Language of the Land: The Library of Congress Book of Literary Maps, a companion volume to this exhibition published by the LOC, and also A Literary Map of Metropolitan Washington D.C.)
Temple of Liberty: Building the Capitol for a New Nation February 24–July 4, 1994 Presents the story of building the nation's Capitol and the symbolic, aesthetic, and pragmatic issues that surrounded the creation of America's most important public building.
Magna Carta: Muse and Mentor November 6, 2014–January 19, 2015 Features the magnificent 1215 Lincoln Cathedral Magna Carta and explores its emergence as an enduring symbol of law. (This copy of the Magna Carta was on loan from the English!)
World Treasures of the Library of Congress: Beginnings June 7, 2001–March 15, 2003 Looks at how various cultures explained the beginning of the world, depicted the first human beings, and defined the heavens and the earth by drawing upon unique items from the Library's international collections in more than 450 languages.
--Beverly Silver