Welcome to the Rooneys !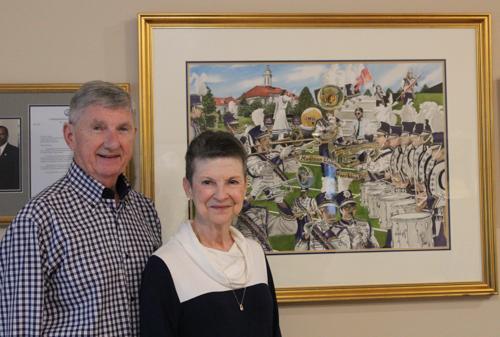 What a pleasure it is to introduce you to new Sunnyside residents Pat and Glenda Rooney! Pat and Glenda visited Pat's mother while she was living at Sunnyside, and they decided then that Sunnyside would be just the right place for them as well. Their decision was reinforced when Pat fell and broke his hip last December and spent some time in Health Care during his rehabilitation. So when a cottage on Glenside Drive became available, they made plans for their move.
Pat and Glenda met in high school in Gulfport, Mississippi – Pat playing in the band and Glenda on the drill team. Although they did not see each other during college, they got back together again after college. Long story short, they will have been married 50 years this coming June! They have two sons. Jason completed the teacher education program at JMU and is now an assistant principal at Woodrow Wilson Middle School in Roanoke. Sean is a real estate broker and owns his own realty business in Virginia Beach. Pat and Glenda also enjoy their two grandsons – Jackson, 11, and Liam, 9.
Pat taught music and marching bands for six years at North Texas State University in Texas and eight years at East Central University in Oklahoma. He and Glenda loved Oklahoma and were happily raising their sons there. But unexpectedly, the band director here at JMU called Pat to ask him to consider leading the music and marching band programs at JMU. He and Glenda reluctantly came to Harrisonburg for the interview, but immediately fell in love with the valley and the university.
The Rooney family arrived in Harrisonburg in 1982, and Pat spent the next 25 years "growing" the JMU marching band from 200 to nearly 500 members. Early on, JMU President, Dr. Carrier, told Pat he wanted JMU to have the best college marching band in the country. Pat complied in 1994 by leading the band to win the John Philip Sousa Foundation's prestigious Sudler Trophy, which annually recognizes the outstanding collegiate marching band in the U.S.
Now you may ask – what was Glenda doing all this time? Well, she became Associate Vice President for University Relations at JMU. She laughingly notes that she retired from this position in 2003 and shortly was asked to return and serve as Special Assistant to the Provost. In this role she planned many special events at JMU, the last of which was a special visit by former President Jimmy Carter.
Another of Glenda's special events was a 1997 trip to Monaco for the JMU marching band to play at the 700th anniversary of the Grimaldi family. This event also involved planning a companion trip for family and friends to attend the concert and then visit several other European countries. (I can personally vouch for this wonderful trip, for several friends and I had the pleasure of joining Pat and Glenda on this adventure!)
What is in store for Pat and Glenda now that they are here at Sunnyside? Well, they will continue to chair the capital campaign for the children's Explore More Discovery Museum here in Harrisonburg, a role they have held since 2008. And they look forward to their daily workouts at the Valley Fitness Center. Finally, they hope to get back to traveling to complement their earlier trips to Monaco, Greece, and Ireland. A warm welcome to Pat and Glenda – we're glad you are now part of the Sunnyside family! -- Linda Bradley -- Photo, Mary Rouse