Wayne and Marilyn Alley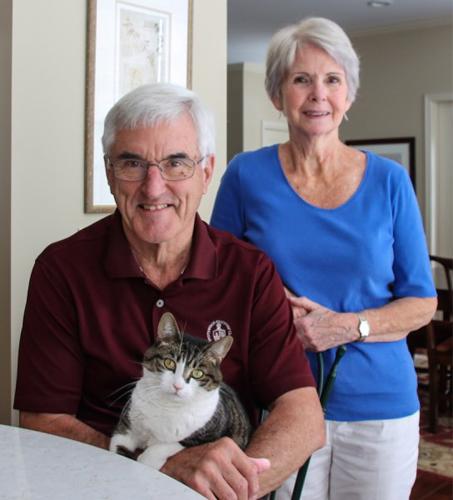 Although Wayne and Marilyn Alley are residents new to Sunnyside, they are hardly new to Harrisonburg – in fact, they've been living here for 45 years, so they already have many friends at Sunnyside as well as friends in town. They do point out, however, that they're now residents of Rockingham County rather than Harrisonburg City . . . so perhaps their move to Sunnyside speaks to the gypsy in them after all! Wayne and Marilyn (and their gorgeous gray-and-white cat, Tiki) moved to their Grattan Price villa in August and have found that they love life here, in part because of the "great people" they know and have met.
Marilyn stays busy with numerous volunteer commitments. She's a long-time volunteer at the Chemo Center at Sentara RMH Medical Center as well as with various church groups, although earlier she had been a volunteer with the literacy program at JMU. She worked as a middle school teacher until her children were born. After they had grown she worked as a long-term sub in Harrisonburg schools.
A retired banker, Wayne began his career in Norfolk before moving to Harrisonburg. (His bank went through many iterations before emerging as SunTrust.) Wayne primarily worked in commercial lending and became president and group manager of a cluster of banks from New Market to Staunton.
Wayne graduated from Hampden-Sydney College with a degree in political science and economics – fitting for a future banker – and Marilyn graduated with a degree in education from Longwood. So how did these two meet, since Wayne went to a men's college and Marilyn to what was then a women's college (before the present, co-ed Longwood University)? They went on a blind date during their sophomore year, although Wayne claims it wasn't completely blind, because he'd already indicated to a friend he wanted to be introduced to Marilyn. And their date was to a football game "because there wasn't much else to do in Farmville." The rest, as they say, is history – they've now been married 53 years and have two children: a son, Patrick, who works at Capital One in Richmond, and a daughter, Amy, who works in sales at a graphics company in Virginia Beach.
Both Wayne and Marilyn love to travel, and at times their trips encompass one of Wayne's passions, golf. They have been to Scotland so that Wayne could play some of the most famous courses in the world (including the Old Course at St. Andrew's, Troon, Gleneagles, and Turnberry). This was a trip that allowed Marilyn time to visit a number of Scottish castles. Other memorable vacations involved voyages to Alaska, to Yellowstone and the Grand Canyon, and to the Napa and Sonoma Valleys. They also had a Mediterranean cruise that gave them a taste of Italy – and left Marilyn, in particular, wanting more. She'd love to rent a villa in Tuscany some day and, owing to an interest in World War Two, would also love to visit Normandy.
Wayne and Marilyn enjoy eating out, and you can often find them dining at Vito's Italian Kitchen or at Macado's – and for special occasions look for them at The Chop and Grill House or the Joshua Wilton House. They pointed out that the restaurant scene in Harrisonburg is far different now from what it was when they moved in the early 70s, when they had to go to Charlottesville to find a decent restaurant. In addition to eating out, you might also find them listening in their spare time to jazz, especially to greats like Dave Brubeck, Paul Desmond, Ella Fitzgerald, and Oscar Peterson. They particularly enjoy jazz trios and quartets.
Although they are warm, friendly, and straightforward, Wayne claims to have a "warped" sense of humor (that is, a finely-honed sense of irony), so perhaps one had best beware. We welcome Wayne and Marilyn (and Tiki!) to Sunnyside and over the years look forward to cultivating a deep friendship with them. --John Noftsinger