MEET BILL AND JUDIE HUTTON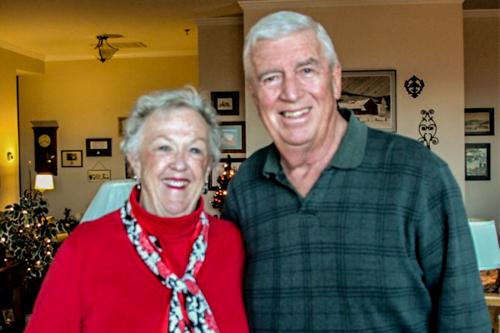 Three questions: Have you ever cruised to the Caribbean? Have you ever cruised the Inside Passage to Alaska? Have you ever cruised from San Francisco to Hawaii? Many people can answer "yes" to the first two questions, but new residents Bill and Judie Hutton can answer "yes" to all three. The cruise to Hawaii took fifteen days and was fraught with problems . . . but that's a story for another time. Please ask them when you see them!
Bill and Judie moved to their Grattan Price villa in October, but they had been residents of the Shenandoah Valley a long time ago, so it was something of a delayed homecoming. Bill (a Chemistry and Biology major) graduated from Bridgewater College and Judie (a Home Economics major) from Madison College (now, of course, JMU). They met on a blind date and married in their senior year—and a year later had their first child.
After a year of teaching, Bill decided that education was not for him, so he switched to the insurance business. Bill spent most of his career with USAA (an agency that specializes in insuring veterans, retired and active duty, and their grown offspring), and his career bounced Bill and Judie all over the map: from Northern Virginia to Roanoke, back to northern Virginia to San Antonio to Sacramento, back to San Antonio, and finally to Franklin, Tennessee, which is where Bill and Judie were living immediately before their move to Sunnyside.
Judie hails from Rocky River, Ohio, a suburb of Cleveland. Her many and varied careers included working as a kindergarten aide in Fairfax County Schools, as a travel agent, as a substitute teacher, and, when the Huttons lived in California, as a volunteer for Canine Companions for Independence.
Bill and Judie have two sons, both of whom live in Loudoun County. Greg is a State Farm agent, and Tim an underwriting agent for bonds with Traveler's Insurance. One of the reasons Bill and Judie found the move to Sunnyside so attractive was that it brought them closer to family in Virginia, including their grandchildren.
Judie has one of the more interesting genealogical connections one will ever hear about—her grandfather was from the Isle of Man, so she is of Manx origin. Bill and Judie have visited there, and found it beautiful. And they love the movie Waking Ned Devine, which was filmed there (though in that film the Isle of Man stood in for Ireland).
The Huttons are passionate about playing golf and are happy to have Lakeside (metaphorically and almost literally) in their backyard. In addition, Bill loves to read, especially murder mysteries and historical novels. At the moment he's engrossed in Ken Follett's A Column of Fire, a novel set during the turbulent years of the early Reformation. And in another life Bill might have been a baker—he loves to make bread, especially whole wheat loaves from his grandmother's recipe. Judie is a knitter and has a beautiful knitted Christmas stocking hanging proudly from their mantel.
While they haven't been Harrisonburg residents for long, they've explored a number of local restaurants and have a few current favorites. Benny's (downtown) they like for their scrumptious pizza, and they also enjoy Union Station and Macado's.
Please greet Bill and Judie when you see them—and welcome them to Sunnyside! --John Noffsinger