BOB NORTH
--by Gini Reese, photo by Gene Drifmeyer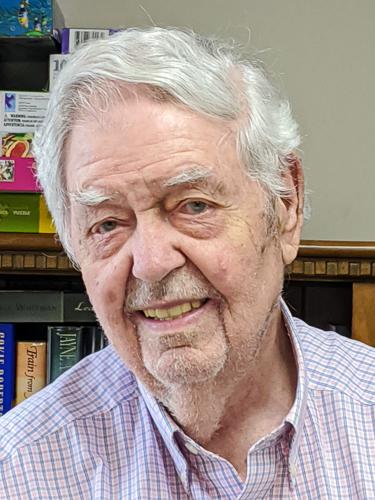 Bob North was born in Easton, Maryland in 1928.He was the first-born son of five children, three girls and two boys. He flourished among his siblings and started school in a one-room schoolhouse, where his cousin was his teacher. After finishing second grade, he became ill and was sent to a sanatorium because he was thought to have tuberculosis. He spent two years there, but it was subsequently shown that he had never had tuberculosis. He was reinstated in the public school system in grade three and graduated from Glen Burnie High School.
After high school, Bob worked at Montgomery Ward, then went to work for the telephone company. He helped install the first dial phone system at the Naval Academy in Annapolis. A friend told Bob about a company where a Christmas bonus of fifteen percent of the yearly salary was being paid. Now that was quite a sum, though only seven new positions were offered each year. Bob decided to apply, but filled out the application in pencil since he really didn't think he had a chance of getting the job. His father was exceedingly distressed and took him to task for being so lax as to fill out something so important as a job application in pencil. Surprisingly, he was called in for an interview and got the job. Bob would go on to work for the American Totalizator Company until he retired at age fifty-four.
American Totalizator Company operated the betting equipment at race tracks: horse racing, greyhound racing, and harness racing. Bob's job was to open tracks and set up the ticket booths to sell tickets and pay out win, place and show for each race. In his spare time, he trained for his pilot's license and bought his own plane. He sold the plane after about ten years. After becoming a Vice President, he spent much of his time flying around the country on commercial aircraft to meet with track owners and prospective clients. He was frequently able to take his wife Marjorie with him on many of his trips. They went to the Kentucky Derby, the Preakness and the Belmont every year, along with several conventions each year. He was always happy to escort her into first class seating.
The North's came to Sunnyside and lived at the Highlands to be near their daughter Renee. Marjorie's failing health caused her to be housed in Health Care while Bob is assigned to Assisted Living. Though being in extremely close proximity, they cannot see one another because of  COVID restrictions (for which we are all thankful) all demanded by safety regulations. So they remain together but apart.
One of Bob's mottos is " Eat Dessert First, " which he follows with a twinkle in his eye and tongue in cheek. He is a whiz at jigsaw puzzles and can be found most mornings taking a nap while listening to classical music in a lounge close to hand.
Bob and Marjorie have been married for seventy years, They have six children, twenty-one grandchildren, thirty-three great grandchildren, and two great-great grandchildren. Before moving to Sunnyside, they lived in Naples Florida and Davis, West Virginia. Bob traveled to all fifty states, as well as Canada, Mexico England, Ireland, Italy, France, Switzerland, and Holland.