CHARLEY SHANK—CAST OF THOUSANDS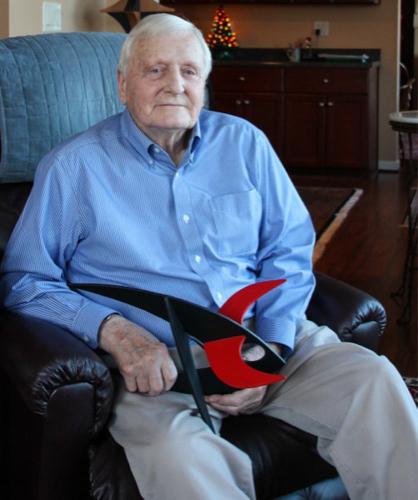 You might know Charley Shank in any number of ways. There's Charley the retired dentist. Charley the proud UVA alum. Charley the husband of Barbara Wheatley. Charley the father of Nancy Wayland, Sunnyside's director of marketing. Charley the raconteur. Charley the Master of the Revels. But do you know Charley the artist?
Charley began making wall and table sculptures (the artistic term is "stabiles") a number of years ago, and around 2011—with Alexander Calder as an inspiration—he began experimenting with mobiles. When asked where he found the materials for his work, he replied, "At Valley Building Supply. They have a bin of scrap wood, left over from their scroll and mill work—and they let me take whatever I wanted from there." The last time he went, however, the shadow of OSHA loomed over Valley Building Supply, and when he found out he now had to wear goggles and gloves to search for wood, he hasn't been back.
After moving to Sunnyside, Charley had a shop in his garage where he would put together his sculptures, and he now has a small shop on the screened porch of his Glenside villa. He would usually start with an image inside his head, but would be open to discovery as he worked on a piece. He also states that some of his work is a copy of work he admires, both Calder's mobiles and, most notably, a large (4' x 8') and beautiful copy of a Stuart Davis acrylic that dominates the den in Charley and Barbara's villa.
Charley is modest about his achievements and emphatically states that they're "not art. I do them because they're of interest to me." A few years ago, however, after encouragement from a number of friends who had seen and admired his work, he was persuaded to have a show along the corridor leading to Bethesda Theatre.
Charley admires non-representational art and is particularly fond of the work of Picasso. Indeed, when viewing Charley's pieces, one sees the beauty of abstract forms, shapes, and textures. Unfortunately, one reason Charley is no longer creating his sculptures is that he has "no more room" to display them. Just look at the slide show below, and I think you'll agree that this a loss for the world of art. --John Noffsinger