HARTLEY AND CAROL GASTON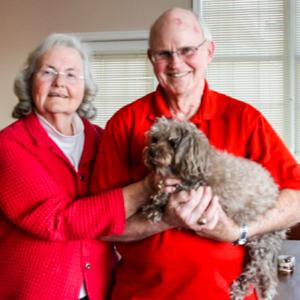 Should you be walking on or driving by the heights near the Grattan Price villas and see a cute, small, brown, curly-haired bundle of fur, please stop and say hi. This will be Coco, a poodle/Shih Tzu mix, and she will be attached (via leash, but in other senses as well) either to Hartley or to Carol Gaston.
In August Hartley and Carol moved to Sunnyside from Salem, Virginia, where they had lived for the previous 36 years. Both were born and bred in Shreveport, Louisiana, where they dated in high school, broke up, and then got back together at Louisiana Tech, where Hartley was majoring in Geology. To pay his way through college, he served a five-year apprenticeship as a flat glass cutter. Hartley and Carol married in his sophomore year and moved to Baton Rouge and LSU. Their son, Douglas, was born in 1959 in Shreveport. Next June Hartley and Carol will celebrate their 60th anniversary.
Upon graduation in 1961, Hartley was commissioned a 2nd Lieutenant in the US Air Force. He has a wide-ranging, and perhaps unprecedented, history in the military. The day he turned 17 he joined the Marine Corps reserves but after college was active duty in the Air Force. Although he started to train as a pilot, he eventually ended up in intelligence and was initiated into some of the earliest military uses of computers. He saw duty in Texas, Japan (where their daughter Michelle was born), Korea, Thailand and Colorado. After serving six-and-a-half years, he left the Air Force but stayed involved in the military through the Navy Reserves . . . so Marines, Air Force, and Navy—certainly a unique connection to the military.
After Hartley left the Air Force, he went to work for IBM and focused on Life Insurance systems. After two and a half years with IBM, he was recruited by Ross Perot to work with Electronic Data Systems and again found himself involved in the early days of business computer use. After that, he found it a natural move to join Southwestern Life Insurance Company, where he was responsible for bringing in-house the large system developed by EDS. After seven and a half years, he was recruited to head up the systems department of Shenandoah Life Insurance, where he was Vice President of Information Systems. Hartley recalls one weekend that must have been startling for the employees at Shenandoah Life. "Late one Friday afternoon one of my colleagues and I collected all the typewriters, and when the employees showed up for work on Monday morning, each was faced with a new PC. (If only we had a photograph of the look on their faces when they entered the office that memorable Monday . . .)"
Carol was also involved in the early stages of computers, for she worked as a keypunch operator in the preliminary phases of data processing while Hartley attended LSU. Following this early stage in her career path, she became a legal secretary. Most of her professional life, however, was devoted to volunteer positions with the Methodist Church. Carol was involved with the United Methodist Women, at one time serving as President of the Virginia Conference and on the Board of Women's Division of the UMC. She also served as a trustee of Ferrum College. Part of Carol's role was to instruct others in how to conduct Christian missions, and this work took her to New Mexico (to work with Navajo tribes), California, London, and even Russia, so the Gastons are definitely two well-traveled residents of Sunnyside.
And if all of these professional activities were not enough, while living in Salem Hartley and Carol bought into Express Personnel, a franchised business providing temporary workers to local employers. They ran this company successfully for a number of years before selling it and eventually moving to Sunnyside. Here they enjoy using the Wellness Center to stay in shape and also enjoy bingo (although they wish more folks would join!). In addition, Hartley and some friends have a plan to begin a poker club after the beginning of the year—so please get in touch with him if you're interested in some low-stakes poker fun. And please welcome the Gastons—and of course Coco!—when you see them around the campus. --John Noffsinger