Introducing Lud and Peggy Creef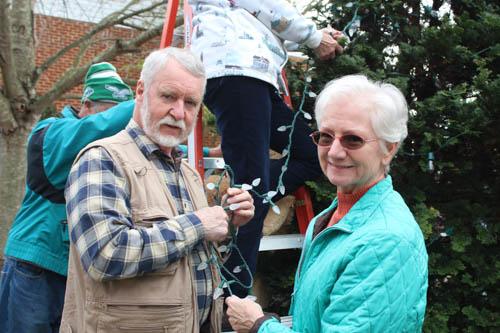 In the beginning, Peggy Joan Creef and Ludford Tarkington Creef III (Lud) were a continent apart. She was born in Norfolk, Virginia, and he was born in Berkeley, California. His family rectified that by moving to the Chesapeake Bay.
Theirs is a small family; Peggy has one brother in Norfolk who is about to retire from civil service with the Department of Navy. She describes home as wherever she and Lud can be together.
Lud and Peggy have devoted their working years to caring for others; she as a social worker and he as a child abuse investigator. Peggy worked for 30 years, starting right after college. Lud was in the Army. After that, he started out as an apprentice in Chesapeake, but he didn't care for the traffic. He wanted to become a child abuse investigator but needed the background and experience. A friend suggested the right job for him, which led him to Peggy. They met because, as a social worker, Peggy had a baby that needed to be taken from the mother. Lud was called in as a child abuse investigator.
Lud found Peggy to be a rock solid, practical person, noting she drove an unpretentious Toyota. He liked that, when asked a question, she would think about it and not just give an answer. A big plus for them was that they both liked cats. Kiki was a longhair black cat that had some Persian. Ivan the Terrible was a beautiful Russian Blue.
After marrying and working toward retirement, they started coming to the mountains on vacation. They liked it and when they retired, they moved to Highland County, to a beautiful house on 30 acres up in the mountains. Lud wanted to experience a more independent life style, and, rather than using the central heat, he chose to use a wood-burning stove. Every year, he would cut down 25 trees, saw them into stove length and then split them. That would take them through the winter. Lud says that wood heat is the best; it is steady and comforting. It also had the advantage of not requiring electricity which, given their location, was prone to failing in the winter storms.
Cutting wood was actually pretty expensive. He started with one chain saw, but soon found the need for a second one for when the first got stuck in a log. Then, he needed a wood splitter. Then, he needed a tractor, and then it was just one thing after another. They realized that, being in their 60s, they had moved too late to live the lifestyle. They were also tired of the cold winters and having trees as their only neighbors.
That is where Sunnyside comes into the picture. Lud and Peggy have no children, and they had to assure that they would be in a place where, if the need arose, they would be taken care of. People would talk to them about retirement centers, so they started looking. They enjoyed the quiet in Highlands county, but there was no grocery store in Monterey and any real shopping was several miles away. Medical care was also an issue. The emergency crews were volunteers; sometimes there was no rescue vehicle available and they often couldn't fly out because of poor visibility. They realized they needed to be closer to health care. They also did not want to move further east. They liked seeing the mountains and did not want to live where it was hot and humid.
They found Sunnyside to be the most appealing retirement community in the Harrisonburg area. They visited a lot, talked to residents, attended a number of events; it seemed like the most logical fit for them. When they walked into 1146 Hickory Cove and saw the mountain view, that was it.
Lud and Peggy enjoy meeting new people, being involved in different groups, formal as well as informal. Lud noted that the Sunnyside Times writers group was a good example; he loves to write and liked that the group could kid around. They have been active volunteers and look forward to becoming involved here. She volunteered at the medical center thrift shop. and they both volunteered as docents in the local history museum.
Lud likes to garden and plans to have a vegetable garden. He also plans to have lots to share. (I didn't tell him about the deer.) Lud is a man of many talents; he is a gardener, a pilot and also a barber. Hmm, I wonder how much he charges. I am going to have to look into that.
Peggy, according to Lud, is a master furniture arranger. She acknowledged she does like to rearrange furniture, but demurs from the master part.
They are also looking forward to the variety of restaurants here. They find it fun to try different restaurants. Lud likes to eat! But be forewarned; he doesn't like garlic. Or maybe it is that garlic does not like him!
One major drawback: They could not bring their 500-pound pet donkey to Sunnyside. Not to worry though, they will go back to Highland County in summer and get him back from the vet who is keeping him. They are moving in stages and recognize there will be a time when Sunnyside will be their full-time home. --Kat Marlowe