John and Beverly Smith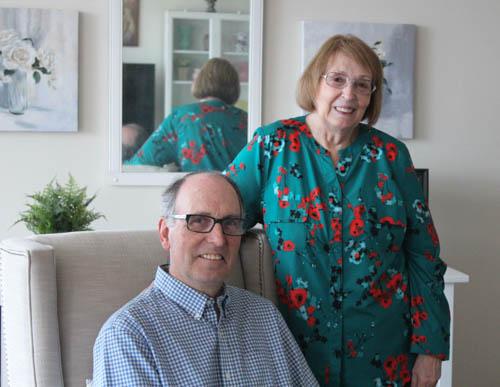 John and Beverly moved to Sunnyside from Harrisonburg, having lived in Belmont Estates, west of town, since 2006. They retired to our area after living in the Washington metro area since their college days and in Fredericksburg for over 30 years.
John's career path began while he was still in college, with a part-time job with the Giant Foods grocery company. Within that company he rose to many managerial assignments and positions. In the sixties he was drafted into the Army and served at Fort Bragg and in Korea. While in Korea he and Beverly became engaged, and they married in 1969. After his military service they lived in the DC area and John continued with Giant Foods until he retired in 2006. This June, on Flag Day, June 14, they will celebrate their 49th anniversary!
Beverly, a Virginian by birth, was born at Fort Monroe, VA, of a military family, and grew up in the Bladensburg, MD, area, near DC. Both she and John graduated in 1965, from nearby high schools, but did not know each other until they met at a farewell party where friends of both of them were off to Viet Nam. Four years later, they married! Beverly attended Washington Business School and over the years had secretarial and administrative positions with several DC lobbyist firms dealing with congressional relations.
John and Beverly have two children, Mike and Melissa. The major "draw" that brought them to the Shenandoah Valley in 2006 was their son Mike, daughter-in-law Lynette, and two grandsons! They live in Linville, just north of Harrisonburg. Mike has taught Latin in public schools and more recently earned a degree in IT at JMU. He currently commutes to work in Winchester. Being nearby during the grandsons' growing-up years has been a blessing to both families.
Their daughter, Melissa, lives in New York City, Manhattan, works in finance in Wall Street, and is able to take advantage of her training and love of ballet. She is currently a member of the Board of the American Ballet Company. When Melissa was growing up, Beverly remembers many years of commuting from Fredericksburg to DC, taking Melissa to ballet lessons, performances, and related activities. When John and Beverly head to NYC to visit Melissa, they often take advantage of the shows, performances and museums of the Big Apple.
Since moving to Harrisonburg, John and Beverly have made many local friends and participated in community activities. John LOVES golf and is an active and loyal member of the Heritage Oaks Golf Course, on the west side of town, near their former home. He plays all through the year on "suitable days." His golf bag is right next to his car, always ready and available. He is also a great fan of the JMU sports programs, is especially enthusiastic for the Washington Capitals hockey team, and goes up to DC for games as often as he can!
Beverly is especially drawn to the arts and to local arts and arts activities. She enjoys the companionship and stimulation of being a member of several book clubs and can continue with those local contacts developed over the past several years.
Over the years John and Beverly have had some chances to travel, especially after retirement. They very much enjoyed a visit to England, where Beverly was enchanted by the Cotswolds, as well as the many offerings of London. Paris and southern France have drawn them to the continent, and Italy is another place that appeals to them for a future trip. On this side of the " Pond," the Northwest - especially Seattle and Vancouver - seem to be calling them. We wonder if John will set his sights on some golf in Scotland - maybe at St. Andrew's ??
Both Beverly and John Smith are enjoying the adventure of a new home here at Sunnyside, and getting comfortable in their lovely Villa. They are looking forward to getting to know new neighbors and being able to do some volunteering here at Sunnyside.
The Girl Scout Song of Friendship certainly applies to Beverly and John Smith: "Make New Friends, But Keep the Old, One is Silver and The Other Gold"
         WELCOME TO SUNNYSIDE!



-- Beverly Silver