Harry and Carol Lee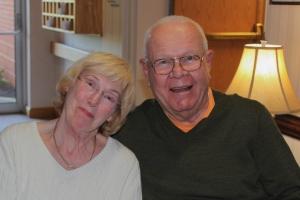 Harry and Carol Lee moved to Sunnyside approximately two months ago. They are temporarily living in The Highlands while a house is being enlarged and updated for them. They plan to move to Aberdeen Loop in August. In the interim, they have been enjoying all the welcoming people they have met in the Highlands.
Most recently, the Lees resided in Aiken, South Carolina. Before that, they lived in various places, and their longest stay was in Charleston, West Virginia. Harry was raised on eastern Long Island, and Carol hails from Ohio. They have two children. Their son lives in Portland, Oregon; their daughter and her husband live here in Harrisonburg.
While residing in Aiken, Harry volunteered with the Department of Public Safety, helping with record-keeping and reporting. He hopes to become involved in similar activities in this area. Carol likes to garden and has belonged to several garden clubs. She is anxious to move into her house and to rehabilitate the landscaping.
Both Carol and Harry have worked to trace their genealogy. Harry explained that he is a descendant of "the New England Lees," not the Virginia Lees! Nevertheless, they are happy to be settling into this area; they are looking forward to meeting more people here and becoming involved in more activities. Welcome! --Susan Sheridan