Meet Dennis Landis and Colleen Cahill-Landis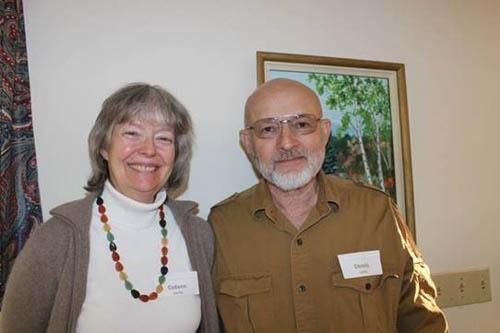 Two of our newest neighbors are Dennis and Colleen, who have moved into one of the two recently built homes on Glenside Drive. They are enjoying the fact that they are almost totally moved in now and hopefully will have a little more time to relax!
Dennis is a Virginia native. The Landis side of the family has long lived in the lower Shenandoah Valley – in fact, Dennis's grandfather was born on a farm that now is Massanetta Springs Conference Center! Dennis grew up in Pulaski and is a Hokie, graduating from Virginia Tech. After a stint in the service, he became a remedial reading teacher and a kindergarten teacher. He earned a master's degree from the University of Virginia and retired after 30 years of working in the Central Intelligence Agency and finally for a communications firm.
Colleen originally hailed from Harrisburg, Pennsylvania. She did her undergraduate work at Shippensburg College (now University), then pursued two master's degrees at Kent State University, one in library science and one in American history. After serving as a library science teacher, she began working at the Library of Congress scanning maps and posting them on the internet. There are now over 200,000 such maps online! Colleen is still working, telecommuting from home several days a week until the end of November.
Dennis and Colleen met in northern Virginia and married in 2001 – a second marriage for each. Dennis has two children – a son in Charlotte, NC and a daughter currently living in England – and four grandchildren – two boys and two girls. They are looking forward to a trip to England to visit their daughter before she and her family return to the U.S. As you might guess, they are avid travelers, having recently returned from a trip to Florida. Another dream is to take a "barbeque" tour across the U.S. and eat as many different barbeques as they can!
Dennis is a movie buff who also loves to hunt and swim; he is in the Sunnyside pool several times a week. He also is interested in landscaping their new Sunnyside property – you can often see him out weeding and planting as you drive by! Another of his interests is photography, and he recently bought himself a "serious" new camera, according to Colleen.
Colleen has many interests as well. Right now she is preparing to can enough applesauce for family Christmas gifts and also to last them through the winter. She is an enthusiastic knitter, an avid reader, and loves to write book reviews. (Maybe she will join the Sunnyside Times writers' group!)
Please welcome Dennis and Colleen as you see them around the campus!
--Linda Bradley