Meet Doug and Lorraine Davis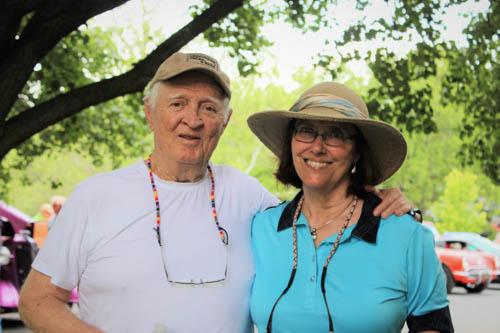 Douglas Davis was born in Washington, DC, but mostly lived in the Fort Hunt area of Virginia. He is a graduate of Control Data Corporation's computer programming school. In the 1960s, particularly in the expanding Washington Metropolitan area, there was a huge need for computer programmers, but a scarcity not only of trained individuals but also of qualified training schools. This was a wonderful opportunity for Doug and served him well through his long career in designing computer automated reservation systems used by airlines, railroads, and banking. He finished his career at Marriott Corporation as Director of Information Systems.
Lorraine Davis was born in Falls Church, Virginia. She is a graduate of George Mason University with a degree in Decision Sciences (business and computers). Her career includes starting as a secretary at Amtrak, utilizing her computer and business skills at Wang Laboratories, and later specializing in real estate appraisal and analysis at Delta Associates, Arthur Andersen, and finally at the Virginia Department of Transportation (VDOT) in Staunton.
So where did Lorraine and Doug meet? In 1974 Lorraine was working at Amtrak as a secretary, and guess who worked in the same department? Lorraine says when she met Doug she looked up from her desk and thought "what lovely eyes." They married in 1976.
Doug's career afforded an opportunity to live in San Francisco in the early 80s working for Bank of America in the newly developing banking need for automated teller machines. Lorraine found work with Wang Laboratories, a computer manufacturer, as a marketing analyst. From their home, they enjoyed views of the San Francisco Bay, Golden Gate Bridge, and the city of San Francisco. The three years there were full of adventure, hiking, and enjoying friends in Los Angeles. Their love of cooking was fueled by dining at Alice Waters' Chez Panisse in Berkeley. The Bay Area was exploding with restaurants, access to every kind of vegetable, bread, wine, and fruit imaginable. Oh, and a bit of wine! But, those family ties were calling; they returned to Falls Church where Doug began work at Marriott and Lorraine moved on to another career in real estate appraisal and analysis.
Doug was an avid golfer who developed a taste for fly fishing. They enjoyed the Shenandoah Valley, so in 1999 they started looking for a weekend retreat there. They found the best of both worlds in Luray with a house on a golf course that was just a mile from the Shenandoah River. Both Doug and Loraine made new friends, played golf, grew lots of veggies and flowers, and especially, enjoyed hiking in Shenandoah National Park. However, commuting (with two travel-averse howling cats in the back seat) almost every weekend was just not fun!
Until then, the commute between Luray and their work in Northern Virginia was necessary. In 2002, however, Lorraine had an opportunity to search for work closer to Luray. Happily, she found a job with VDOT in eminent domain appraisal, working on just compensation. Despite the long commute to and from Staunton, it allowed her to live in Luray. Doug was able to telecommute from Luray, requiring only a few days a week in McLean, and allowing much more time for golf, fishing, and enjoying the peaceful Valley.
Lorraine worked for 7 years with VDOT in Staunton until 2009 when an agency-wide layoff ended her work routine. But life's mystery actually made the layoff a true blessing – she was able to consult with VDOT from home – no more 2 hour a day commute!! She still consults a bit – recently reviewing a majority of the appraisals prepared for the Dulles Metro extension. Doug retired in 2007, indicating that Marriott was a wonderful corporation to work for, but he felt he had worked enough – time to enjoy the fruits of his labor.
Lorraine's mother was the driving force for moving to a CCRC. She had lost her husband in the early 80s and was becoming isolated in her Sarasota, Florida neighborhood. In 1990, Lorraine and her sister (Lynda) helped her move to Plymouth Harbor in Sarasota. They saw how much easier it was for their mother to have health care on site. They watched her just blossom with access to bridge, lovely walks on the campus, and interaction with people who also shared a desire to live in a supportive community.
Doug saw how it removed a huge burden from Lorraine. He, too, did not want to be a burden to anyone. Doug had his heart aortic valve first replaced in 2011, only to have a defective valve requiring a new replacement in 2017. They both started looking in earnest after the second surgery. Being true Virginians, with the Shenandoah Valley ranking top on their list of where to live, they limited their search to the Valley.
They had first looked at Sunnyside in 2015. To them, it looked like a small college campus in New England. After his second heart surgery, Doug decided that, if he was going to move to a CCRC, Sunnyside was the only place he would go. They initially looked at Highland apartments, but realized going from a 2,400 square foot house (with lots of furniture) to 1,200 feet would be hard. They ended up in a beautiful "cottage" on Glen Loch.
Hmm. Maybe someone can help me with this. Why our beautiful homes are called cottages?
The Davis's are so happy with their home! Doug commented that, after three days, he never looked back. Lorraine immediately felt right at home.
They were attracted to Sunnyside because it was a beautiful place. However, it is the diversity of people, the kindness of neighbors, and the strong sense of community that makes Sunnyside home.
Oh, by the way, if you love antique auctions, Doug is your man. He is really into them and knows them all well.
Welcome, Doug and Lorraine!
--Kat Marlowe