Meet Emily Pancake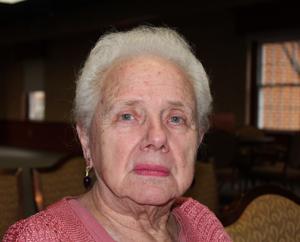 We are pleased to welcome Emily Pancake to Sunnyside and the Highlands! Emily arrived early in February from Stratford Hills, on the south side of Richmond. She was accompanied by her 14-year-old gray and white cat, Bruce, affectionately known as "Bruce the Boss." Emily's father and aunt lived here at Sunnyside a number of years ago. Emily was so pleased with the wonderful staff and Sunnyside family then that she knew this would be the right place for her as well.
Born in Columbus, Ohio, Emily was an Ohioan for just three months before moving to Virginia for 10 years. She then lived in West Virginia until she finished high school. She graduated from Agnes Scott College in Decatur, Georgia with a major in chemistry. Once moving to Sunnyside, Emily met Sunnyside resident Virginia Bethune, who graduated from Agnes Scott just before Emily entered as a freshman. It is interesting how our paths sometimes cross later in life! After graduation, Emily worked in a lab at Yale University, next in Heidelberg, Germany, and finally at the University of Virginia in Charlottesville.
Emily then joined the sales force at Miller and Rhoads in Charlottesville, working at several different jobs before concentrating on selling big ticket furniture. When Miller and Rhoads went out of business, she moved to Richmond and worked at Hecht's and Macy's, also selling big-ticket furniture, mattresses etc. She eventually retired from Macy's.
Emily has always enjoyed playing the piano and brought an electronic keyboard with her. Now that she's getting settled, she is also beginning to take advantage of Sunnyside's many activities and trips. She has joined Book Buddies and a Wednesday Bible study group, in addition to swimming twice a week. She has taken Sunnyside trips to Short Pump and to the Forbes Center at JMU for HMS Pinafore and to Turner Ashby High School for Phantom of the Opera. She is looking forward to a program at the Wayne Theater in Waynesboro, as well as the upcoming trip to Lancaster, Pennsylvania. Emily is also looking forward to a visit in June from her younger sister and her husband who live in West Virginia.
Please give a warm welcome to Emily as you see her around our campus! --Linda Bradley