Meet Jack and Margaret Thompson
Q:
What do
Tooth Fairy, Loose Tooth,
and
Baby Tooth
have to do with two of our newest residents? Read on and you will find out!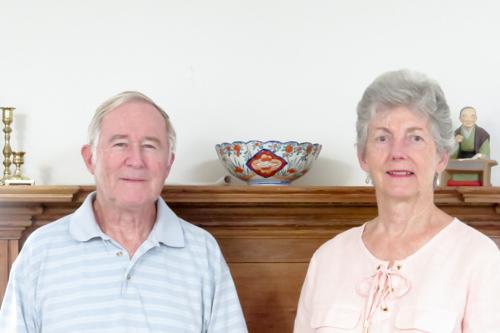 Jack and Margaret Thompson have recently moved from Barboursville to 1316 Glenside Drive. The couple also has a summer home on the Rappahannock River in Lancaster County on the Northern Neck.
Jack and Margaret both grew up in Richmond, went to high school together there, and then on to the University of Richmond – Jack at Richmond College and Margaret at Westhampton College. They married after college and Jack went on to earn a degree in dentistry from the Medical College of Virginia. While Jack completed his studies, Margaret became the first woman chemist to be hired by the A.H. Robbins Pharmaceutical Company Research Lab. After serving in the military for three years, Jack set up a dental office in Gordonsville, where he practiced for 47 years. After their last child went to school, Margaret went back to dental hygiene school at MCV for two years and worked with Jack as his hygienist for 32 years. Margaret's name may also be familiar to Sunnyside residents – she served on the Sunnyside Communities board for 26 years!
Jack and Margaret have one son, two daughters, and 12 grandchildren. Their son, Jay, lives in Palmyra and has taken over his father's dental practice. One daughter lives in Virginia Beach and the other is in Greensboro, North Carolina. Their oldest granddaughter is a senior at NC State on a Navy ROTC scholarship following her father into the Navy. Their youngest is three years old and hasn't decided on her college major yet!
Both Jack and Margaret enjoy traveling and have visited every continent except Antarctica (so far!). They have a trip to Egypt, Jordan, and the Suez Canal planned for December. Margaret also enjoys needlework, sewing, and gardening. Jack enjoys woodworking, boating, and fishing, especially at their place on the Rappahannock River.
A: As you may have already guessed, Tooth Fairy, Loose Tooth, and Baby Tooth are the names of the Thompson's boats on the Rappahannock River in Lancaster County. Most appropriate!
But wait -- there's one more thing that is unique to the Thompsons – they raise oysters following the best practices protocols suggested by the Virginia Institute of Marine Science. According to the VIMS website, "When an oyster filters food from Chesapeake Bay, it contributes not only to its own growth, but also to the health of Bay waters. That's because the materials it ingests—typically algal cells and bits of detritus—would otherwise be fueling the nutrient pollution and turbidity that have obliged watershed states to adopt 'pollution diets." The Thompson oysters are floated in mesh bags off their Rappahannock dock, and each one can filter up to 50 GALLONS OF WATER A DAY! I know Jack will be happy to explain more about this project – be sure to ask him the next time you see him!  He also belongs to TOGA (Tidewater Oyster Gardners Association) that promotes the raising of oysters.
A warm welcome to the Thompsons!
--Linda Bradley