MEET JIM AND GINNY MATHIE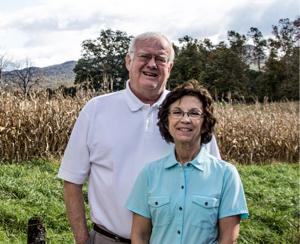 The first impression one gets on meeting new residents Jim and Ginny Mathie is that they're warm, curious, and adventurous. They moved here from Smith Mountain Lake, where they'd lived for fourteen years after they retired, but before that they had lived thirty-five years in the Harrisonburg area, so coming to Sunnyside was something of a homecoming. They're now closer to their daughters in Charlottesville and in Ashburn (northern Virginia), although a third daughter lives near Ann Arbor, Michigan and is thus more distant. Jim and Ginny are in a unique position at Sunnyside because they live in one of the new cottages in the Glen, and they were able to design it from the ground up.
Jim studied mechanical engineering at the University of Michigan and is still a proud Wolverine. (There is a family connection here because Jim's father and sister also attended Michigan, as did two of the Mathies' daughters.) In fact, Jim explains, "We still return to Ann Arbor each fall to visit our daughter and to attend a football game." Ginny was born and raised in Toronto. She did her undergraduate work in Mathematics and Computer Science at the University of Waterloo in Ontario and earned a Ph.D. in Psychology at the University of North Carolina at Chapel Hill. For over thirty years Jim owned and operated Padgett Manufacturing in Bridgewater, a firm specializing in woodworking and millwork, while Ginny was a Professor of Psychology at JMU.
Jim and Ginny met in Harrisonburg, where a mutual friend brought them together at a dinner party. Jim claims that he was "immediately impressed because Ginny knew the University of Michigan fight song." Their first date was to a motorcycle race. Miraculously, there was a second date, this one to attend a concert at the Kennedy Center, so one might say they covered the Alpha and Omega of dating possibilities in as short a time as possible.
Traveling emerges as one of Jim and Ginny's foremost interests. They've been to all seven continents, and their travels have included visiting the northernmost point in Europe (North Cape, Norway) as well as the southernmost point in Africa (Cape Horn). Highlights of their traveling life include having spent six weeks in China and Tibet, and they particularly loved a vacation in South Africa that included going on safari in Botswana. They've been able to spend time with families in places as diverse as Russia, Australia, Singapore, Holland, Italy, and Greenland—and next year they will go on a cruise in the Amazon. Their travels have led them to ride elephants in Africa and camels in Australia.
In their spare time—and it's difficult to believe they have much spare time—Ginny states she "likes to knit, to sew, to make jewelry, to do cross-stitch, to play pickleball—and we both enjoy reading." (A recent favorite was The Elephant Whisperer: My Life with the Herd in the African Wild.) Jim likes to build and has plenty of room to tinker in the workroom of his spacious garage. At Smith Mountain Lake Jim was an enthusiastic model railroader, and his layout was so impressive that he donated it to a restored depot in Boones Mill, near Roanoke, where it will be lovingly displayed. Jim also speaks with fondness of the time when he trained his two Labrador Retrievers, Biscuit and Banjo. He also likes to amuse himself by playing popular music and Broadway tunes on the keyboard. And both the Mathies enjoy seeing live theatre: "For over twenty-five years we've had season tickets to the summer musical theatre presentations at Shenandoah University."
Jim and Ginny are obviously curious and open to new experiences. Ginny confessed that for a while she took tap dancing lessons along with her young daughter—and even appeared in the studio's final dance recital with the little ones. And both Jim and Ginny took ballroom dancing at JMU . . . for a grade. (Jim sounded slightly envious that Ginny had earned an A+.)
Jim and Ginny make it clear that they're looking forward to the educational and recreational opportunities that Sunnyside will provide and are passionate about the possibilities that will open up in their future. Please welcome them!
--John Noffsinger