Meet Mary VerNooy and Ida Simpson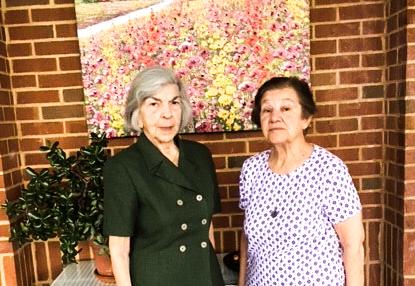 Two sisters, both born in Lawrence, Massachusetts, two different paths that have now merged again here at Sunnyside! Here's a bit of their stories.
First, Mary. She graduated from Newton College of the Sacred Heart and after a brief period began working as a secretary in the School of International Relations at the Massachusetts Institute of Technology. There she met Robert VerNooy, a graduate student in the Industrial Relations Department. Long story short, they were married and Robert (Bob) began working in ITT industrial relations, a job that required them to move many times throughout their lives. Throughout her life, Mary has been active in church work, frequently forming small Christian groups. Mary and Bob have two children, a daughter who lives in Huntington, Connecticut and works in Human Resources for United Illuminating and a son, Robert Jr. (Rob) who is a cardiologist at Sentara RMH here in Harrisonburg. Rob and his wife have a three-year old daughter whom Mary describes as a "dynamo," and they are looking forward to the birth of a son later in June. (You may remember that Dr. VerNooy gave a presentation on Atrial Fibrillation here at Sunnyside in February.)
Now Ida's story. Ida graduated from Georgian Court University located in Lakewood, NJ on the former estate of financier Jay Gould. She went on to Middlebury College in Vermont for a graduate degree in Spanish. She lived for a time in Regensburg and Munich, Germany where she taught Spanish, Italian, and Latin in a Department of Defense school. She also loves to sing and has performed a lot of solo work. Ida married Edward Simpson and has three step-children – Edward, Jr., who lives in Oregon; Dr. Beryl Simpson, who is a professor at the University of Texas in Austin; and Joan, who is married to a Navy doctor and lives in San Diego.
Now how did Mary and Ida merge their paths and arrive at Sunnyside? Well, Mary and her husband moved from Ridgewood, NJ to Harrisonburg in February 2017 - Bob to Health Care at Sunnyside and Mary to live with her son until her move to the Highlands this January. Ida was living in Hillsboro Beach, FL when last year's hurricanes struck. She was the last person to be evacuated from her building and was scheduled to fly to New York on a Jet Blue flight. Through miscommunications, she missed the flight and finally arrived in New York on a Jet Blue crew flight at 2 in the morning! After that adventure, Ida lived with Mary's daughter in Connecticut before moving to Sunnyside this January.
Both sisters have acclimated well to living in the Highlands. They attend church at Blessed Sacrament regularly, and Mary is grateful for Sunnyside's shuttles that allow her to visit daily with her husband in Health Care and to do their grocery shopping. Please extend a warm welcome to Mary and Ida! --Linda Bradley