MEET RICK JENKINS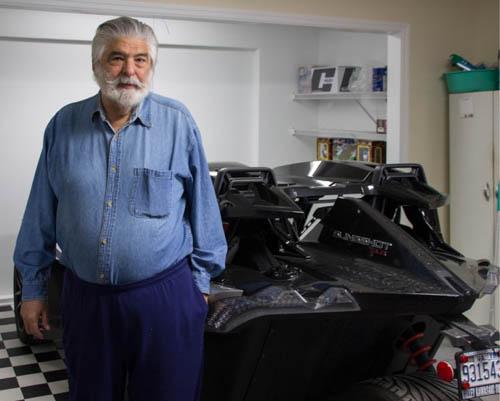 What has three wheels and a speedometer that registers up to 220 mph? The answer? Rick Jenkins's Polaris Slingshot.
Rick is a soon-to-be resident on Glenside Drive, but because he currently lives near Shenandoah Lake, the move won't be far—and in the Slingshot he could make it in about 12 seconds flat. In fact, Rick has lived in Harrisonburg since l968, when he got out of the Navy. He was born in Johnstown, Pennsylvania, a city that's "a good place to move far away from," he explains. When Rick was in high school, the population of Johnstown was about 125,000, and its prosperity was built on coal and steel. When he visited two years ago, the population was about 25,000, and the city seemed to be dying.
Rick did get away from Johnstown by attending college in Florida, where he majored in Finance. For two summers while he was attending college he interned in Harrisonburg, where his brother Tony was living and working, so after Rick's stint in the Navy Harrisonburg seemed like a logical place to settle down. For many years he worked as a CPA in various accounting firms in the city. He stayed busy doing audits of a number of hospitals around the area, ranging from West Virginia to Washington, DC. And although Rick became adept at using a computer in his auditing work, he remembers when "having an adding machine was a real big deal." Rick's hobby tended to be work, which he enjoyed a great deal. Like many of us, he still misses the people he worked with.
Rick enjoyed the "small time feel" of Harrisonburg back in the late 60s and early 70s. He used to stop by the women's dorm at Madison College, and the resident in charge of dorms would yell out, "Anyone on the first floor want to go out tonight?" He says that those were happy times—even though the Madison College women could only be out two nights past midnight once a semester, and most of the time they went out they were required to wear a dress and gloves.
Rick likes to read, especially history and non-fiction, and he particularly enjoys books written by Jimmy Buffett. This fits in with his love of 60s and 70s music, especially "do-wop" and the Four Seasons. He also enjoys dining out at the Bavarian Chef, over the mountain in Madison County, and closer to home, the Bluestone Inn.
Now about that 3-wheeled Polaris Slingshot . . . . Over the years Rick has owned five motorcycles of different types and now enjoys his Slingshot, which he's owned for two years (and which, by the way, is licensed to operate on all roads in the country). Although some health problems have plagued him recently, he's looking forward to getting back behind the wheel—and also looking forward to "getting to know the people at Sunnyside."
--John Noffsinger