Meet Sharyl Cline!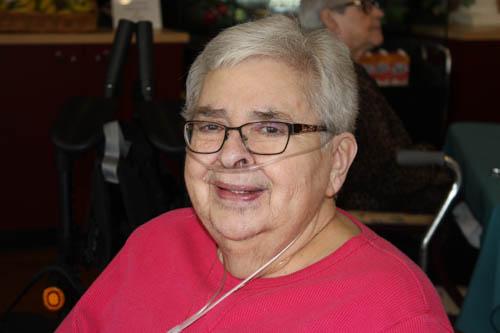 Sharyl Lee Cline recently moved to the Highlands, Apt. #116. She was born in Clear Lake, Iowa. The family relocated to Cresco, Iowa, where she grew up and where started second grade. And the significance of that? Sharyl started kindergarten in a one-room school. There were only five students, and she was the only girl. That could only mean that she was spoiled rotten! And she loved it. However, in the second grade, she transferred to a larger school. One with lots of girls. No more spoiling. As you can imagine, it was quite an adjustment.
Sharyl graduated from Virginia Commonwealth University in Richmond. After she married, she and her husband moved to Illinois and then to Virginia. She spent the last 20 years on the Eastern Shore. She loved being on the water and hearing the ocean. She recalled that, once you go over the Chesapeake Bay Bridge, all the hustle and bustle was left behind, leaving peace and quiet. That, she said, was home.
Sharyl has a younger brother, Greg, in Missouri and a younger sister, Debbie, in Alabama. She noted that, as the oldest sibling, she tends to be a little bossy. After all, isn't that what oldest children do? She and her husband did not have children, but she has plenty of nieces and nephews, with 13 great-grand nieces and nephews, ranging in age from two months to twenty-two years.
Sharyl and her husband traveled a lot; they went to all but four states. Her favorite was Hawaii, where she enjoyed the beautiful countryside. She also loved to go to the Finger Lakes in upstate New York. Her husband enjoyed field archery, and they would go to the annual shooting field archery national tournament that was held there. She recalled that, while the husbands were competing, the wives would take off on their own. They loved to go to the local wineries, to as many different ones as they had time. But first, they always designated a duty chauffeur!
They also went halibut fishing in Alaska. One time she caught a 163-pound halibut. They had it cleaned and filleted and shipped home. She said she fixed that fish every way she could think of. That was a lot of halibut to eat!
Sharyl started her working career in Chester, VA, working for Phillip Morris. While there, she was a Direct Materials Purchasing Agent. And what, I asked, is a Direct Materials Purchasing Agent? She explained there were two types of purchasing agents; one was direct, which involved purchasing products that were used to make tobacco products: paper, filters, that kind of thing. The non-direct purchasing agents were involved in purchasing equipment and supplies, cleaning supplies, and other items not directly related to the manufacture of tobacco products.
She was offered an early retirement in 1998 and immediately accepted it. She continued working part-time for five years and then created a whole new career, one she found very meaningful and enriching. The area where she lived on the Eastern Shore was not heavily populated, and there were a lot of poor people living there. And of course, there were a lot of dogs and cats. But few people could afford to have them neutered or spayed.
If there is anything you will learn about Sharyl, it is her dedication in helping these animals. She just had to help. She developed the Eastern Shore Spay Organization (ESSO) to try to reduce the feral cat population and the many dogs that were not being taken care of. She worked with PETA to have a mobile vet unit come to the Eastern Shore to provide low cost neutering and spaying. She scheduled all the ESSO appointments for the vet. She said it did not take long for her name to get out as the person to call if you had litters no one wanted, abandoned pets, and people asking her to shelter them. She would try to find homes for them, had them spayed or neutered. She also had several colonies of feral cats that she would feed and have spayed and neutered. She also had a large number of pet cats. Sharyl knew she could not keep all of them at Sunnyside, so her nephew took all but one of them to a no-kill shelter in Iowa, where he lived. She brought the last cat with her.
When her family recognized that she could no longer live alone, her nephew in Dayton checked out all the area CCRCs. Sharyl picked Sunnyside because she could keep a cat and she appreciated all of the activities available to residents here. She also appreciates that she will not have to worry about doing yard work and keeping up a home. She is still trying to figure out what to do here. She has contacted a person involved in spay and neuter work and is looking for where she can be of the most help.
When Sharyl saw the pictures of her future home, she noted that the kitchen sink was very small. She talked to Marketing and told them she wanted a larger sink. The sink she was shown was huge and would take up all her counter space. She again told them she wanted a regular sink, not a huge one and not a small one.
Well, imagine her surprise when she arrived and saw the largest sink that could possibly fit into the space! Of course, she talked to Robert about it, and he told her that, by the time the work order got to them, it specified a very large sink! Well, you know Robert. He got right on to finding the not too small, not too large, but just right size of sink.
One thing Sharyl is looking forward to is meeting other residents and hearing their stories. And guess who else has a lot of interesting stories! Sharyl, welcome to Sunnyside. --Kat Marlowe