Now and Then - Bob Field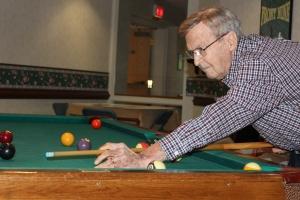 He can be found on Wednesday evenings holding a pool cue stick, which he wields with remarkable finesse. Possessing a practiced eye and focused attention, he strikes the ball without hesitation, sending it firmly into the designated pocket with aplomb. Moving with the sureness of a trained athlete, he exudes confidence, and indeed he often wins.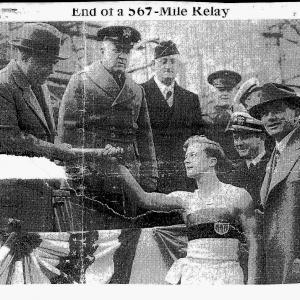 And another example ... on Armistice Day of 1941 (just one month before Pearl Harbor), a high school boy, head bared to the cool morning air and attired in a white racing suit displaying the Fitness of American Youth logo, strode proudly toward the stands outside Independence Hall. Thus ended a 567-mile relay across Pennsylvania that saw 2,600 different young men carry the baton from Erie to Philadelphia. As he presented the baton to Mayer Bernard Samuel, several thousand spectators watched and applauded Bob Field.
Bob served three years in the Navy as a Radio Man First Class aboard the sub chaser patrol craft 1184. This was the smallest steel ship in the Navy. It was crewed by five officers and 70 men. Following a stint in the Navy, he attended Westminster College at New Wilmington, PA. This was followed by graduation from Union Seminary in Richmond, VA, before beginning his 50-year association with various Presbyterian congregations. Among them were Roanoke, VA; Petersburg WV (a most highly educated group); and Pinehurst, NC (hob-nobbing with Bob Hope and Alan Shepard).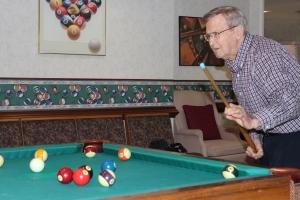 Then on to retirement with his dear wife, Doris. They have four children, 14 grandchildren, and six great-grandchildren. Bob and Doris reside in Assisted Living at the Eiland Center. On Wednesday evenings, he is joined by his friends – Charlie Lotts, Bill Ingham, and Frank Lambert – for a game of pool. --Gini Reese