Pat Bertoia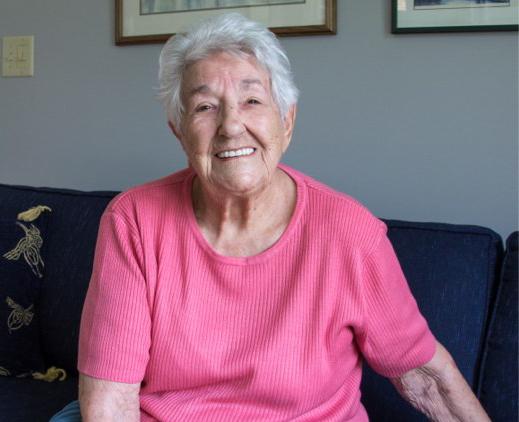 One of the things I love about living at Sunnyside is that everyone has a story. Pat Bertoia, who moved into a Grattan Price cottage in April, is no different – she grew up with five sisters on a wheat farm in Alberta. And while her circuitous path to Sunnyside began in Canada, along the way she made lengthy stops in Washington, DC and in Beckley and Huntington, West Virginia.
Pat began her professional life as a legal secretary in DC at the age of 22, her first move out of Canada. After working there for five years, she moved to Beckley and worked as a secretary for the United Mineworkers. Eventually, in 1964 she wound up in Huntington, working at St. Mary's Hospital, and she stayed there until her retirement 33 years later. After Pat retired, she "did the things other retirees do." This included volunteering at St. Mary's and being a member of the Board of the Huntington Symphony Orchestra. While living in Beckley, Pat became a United States citizen because "I wanted to be able to vote."
During her retirement years, Pat has traveled extensively. Her favorite place to visit was Africa, where "I was with a group of twelve people. We went to watch the Great Migration and camped for a week on the Serengeti Plain." More recently, when international relations began to thaw during the Obama administration, Pat traveled to Cuba on an educational tour.
As Pat settles into life at Sunnyside she will continue to follow her passions: reading (especially nonfiction and autobiographies), gardening, cooking, and painting (both oils and watercolors). When you see this "Child of the Plains," please welcome her to the community!
--John Noffsinger