Welcome to the Hendersons!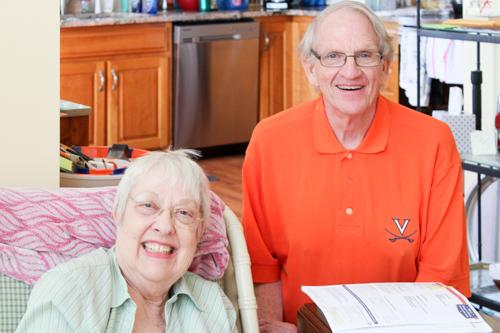 Charles and Mary Henderson have joined us here at Sunnyside, moving into the Grattan Price Villas (4455, Unit 3). They had known about Sunnyside for a number of years and made the wise decision to join us here, moving in this past May. The move was a big one even though the distance was not very far, their having lived in Harrisonburg in the same house since 1972.
Charlie hails from southwestern Virginia where he grew up in the town of Norton in Wise County. After graduating from J. I. Burton High School, he headed south to Davidson College for two years. The desire to prepare for a career in medicine led him to UVA for his third and fourth years, graduating from the School of Commerce there and also completing the academic prerequisites for admission to medical school. He entered the UVA School of Medicine in 1961 and graduated in 1965.
Mary Michelson Henderson hails from a little farther away. In her hometown of Grand Island, Nebraska Mary grew up in a family where her dad was a jeweler and watchmaker. As she graduated from high school and thought about college, Mary really did not want to go to one of the large Midwest universities, close to home. She found out about a smaller church-related women's college far away on the East Coast - in Lynchburg, Virginia - Randolph-Macon Women's College (now Randolph College). She applied, was accepted, and came two thousand miles east to RMWC, sight unseen. A brave and adventurous young woman, indeed! Mary majored in studio art and explored a variety of different media, painting, sculpture, woodblock printing, etc. In her senior year she served as art editor of her yearbook.
How Mary and Charlie got together is an interesting tale! In her senior year she came to a party at UVA, one of those introductory dances! Also in his senior year, Charlie happened to be at the same party - THEY MET! After their graduations (1961) Mary moved to Richmond and worked at the Virginia Museum of Fine Arts for a year. Charlie entered Medical School, and In 1962 they were married, in Grand Island, Nebraska. During those med school years, Charlie studied and Mary worked in the Medical Illustration Department at UVA. Her responsibilities revolved around the photography and presentation of slides for various reports and projects that members of the School of Medicine presented at professional meetings.
Charlie graduated with an MD degree in 1965 and served an internship appointment at Cincinnati General Hospital for a year. They enjoyed the "big city" atmosphere and culture, both having come from smaller communities and having also experienced college in smaller cities. Charlie then enlisted in the Air Force, and off they went to Florida for two years.
After those two years they returned to UVA and Charlie completed his residency in Radiology. They moved to Harrisonburg, and he joined a radiology practice with three other partners at Rockingham Memorial Hospital. AND - they raised their family. This year they will celebrate their 57th anniversary on August 25.
Charlie and Mary raised two sons. Charles (the IV) "Chuck", (b.'66), and James "Jim", (b. '70). Both graduated from HHS (Harrisonburg High School) and then from UVA! Chuck lives in California, working in technology, and has two daughters. Jim is an architect in our area and has two sons.
Over the years, after managing their household and nurturing and raising their two sons, Mary has come to relish a somewhat calmer life style and quiet times, and opportunities for reading (especially historical books and novels). Swimming is also an important and enjoyable exercise. She participated for many years with the RMH Auxiliary group that included many spouses of the medical staff.
After being in practice for thirty years, Charlie retired eighteen years ago. They have been able to enjoy a good deal of traveling. They have been to Europe many times and especially enjoyed some river cruises, including on the Danube, also visiting the Lake Country of Italy and Switzerland. They have taken many winter Caribbean cruises.
Also, since retiring Charlie has been able to enjoy photography, with the transition from film to digital. He has been working to save a whole family collection of slides and prints, now converted into digital form. A green thumb led to gardening and even having a greenhouse at their home in town. He also served on the Harrisonburg-Rockingham Free Clinic Board for its first nine years, and in many positions at UVA, including the Council Foundations and the Health Foundation Board.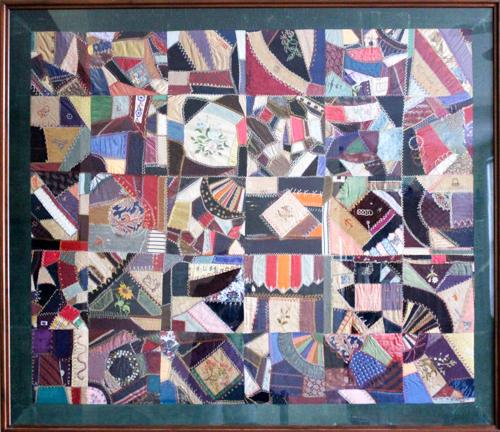 As I visited and talked with Charles and Mary, I noticed large and magnificent wall hanging (under glass) in their great room. It is an amazing "Crazy Quilt" that has components dating at least as far back as 1844. Mary told me that her grandmother had used materials from several older generations' quilts. Her grandmother had cut some up to make herself a coat to be buried in! Later, Mary's mother also worked on it, including additional pieces of party dresses and her Daddy's old silk ties! Her mother also finished it off with beautiful and intricate border stitching outlining around each piece of material included in the whole quilt. There are almost as many different stitch patterns as quilt pieces. It is truly an exquisite museum piece, worked on by several generations.
We are so glad that Charles and Mary Henderson have joined us and hope they enjoy many happy years on our Sunnyside Campus.
--Beverly Silver