A Scenic Drive to Fulks Run, Virginia
--by Gini Reese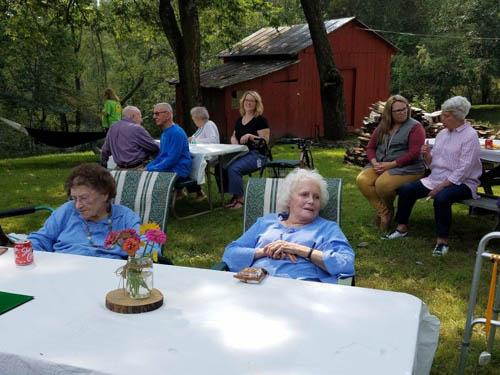 The invitation promised an outdoor excursion to a picnic at Fort Hogg. It was a beautiful late summer day with blue skies and verdantly green grass, just waiting for someone to lie out in it. So 20 passengers, four assistants, one driver, eight walking canes, and 12 rolling walkers boarded the Sunnyside bus – everyone excited.
Fort Hogg is 11 or 12 miles inside the West Virginia border, so after you pass Chimney Rock (a milestone along the highway) and Turner Ham General Store, you are almost there.
Fort Hogg sits on 90 (or thereabout) acres, and the North Fork of the Shenandoah River ambles through it. Slits (gun ports) at just shotgun height attest to their convenient use during the French and Indian War.
The original cabin is used for hunting. It is heated with stacks of split cords of wood (neatly piled to be kept dry) in a lidded wood box. A blue-handled pitcher pump graces the yard. An outhouse painted red, white, and blue boasts the proverbial half-moon crescent. Although the outhouse is carpeted, it is unheated.
Arriving at our destination, the bus pulled as near as possible (onto the grass) to disgorge those already mentioned. We each were met with a warm greeting, sometimes a hug and kiss, and always a handshake from Linda Criger. It made everyone feel warm and welcome. Then the mood was enhanced with the sight of table cloths, napkins, assorted tables and chairs, with a mason jar filled with perky zinnias to top it all off. We disembarked to a bucolic fairyland.
Everyone quickly found a seat and those of us who could walk investigated the parameters of the knoll, and one and all grinned with glee at being alive and outside. We enjoyed a box lunch (by Linda Davis) with tuna and egg salad, cream cheese and olive sandwiches on quartered white and wheat bread; banana cookies; potato chips; and soft drinks, warmed by the fire and our gracious welcome by those who had supplied all those blessings.
Alas. The glorious day was over so with a mixture of regret and thanksgiving, we slowly boarded the bus and headed for home.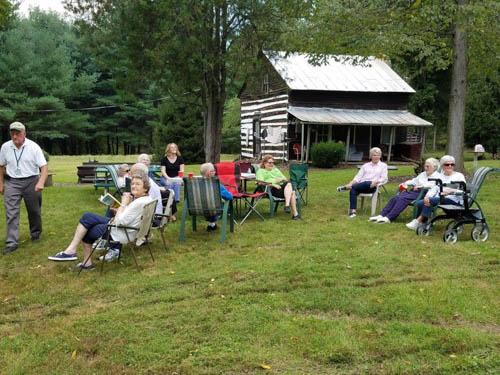 Driving in a wide circle to regain our traction on the paved road, the bus skidded on the wet grass. Attempting to move forward only dug the rear wheels deeper. Rocking in place made it worse. A conference was held.
A shovel was brought, trenches were dug, and 2x4s were inserted in the ruts. The effort was heavy and exhausting. The 2x4s slipped off the narrow boards, not once, but three or four times, and each time was more exhausting. A conference was held.
Those who could, got off the bus, found chairs, found refreshments, used the outhouse, and grinned gaily at one another.
A chain was found and attached between a pick-up truck and the bus. Slowly we crept forward. We moved slightly. The chain broke. A conference of weary, disheveled workers was held.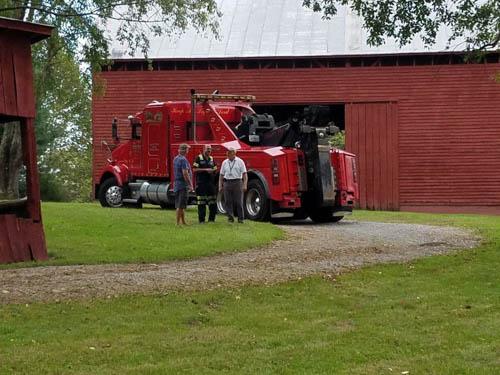 A tow truck was called. Those seated in comfortable chairs, cooled by delightful wafting breezes, ate their cookies and drank their soft drinks without a care.
While we relished the extended freedom of unscheduled release, we found ourselves laughing like children on a holiday. The air was festive. No one complained; even those under duress were smiling and joking caught up in an adventure of surprise and good will.
The tow truck arrived. We all cheered. Then were quiet as the tow brought the bus to a level stop on firm ground. Safely aboard by our able Russell, Anita, Sandy, Lindsey, and Alisha, we never doubted it for a moment.