Akiko "Chris" Carniglia - An Interesting Life!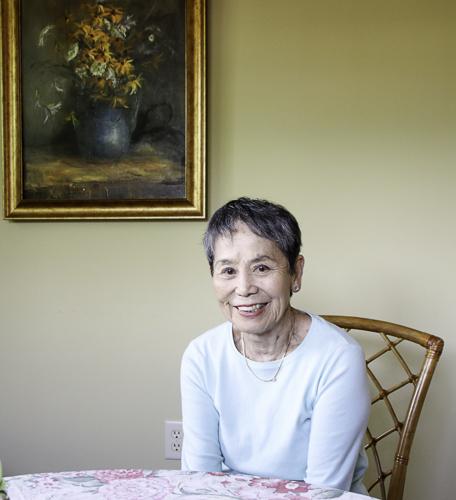 Like many Sunnyside residents Akiko "Chris" Carniglia has led an adventurous life.  She and her husband, Joe, moved to Glen Loch Court when the Glenside cottages opened in 2008.  Before their move to Sunnyside they lived at the top of Bryce Mountain, where "we loved to ski, golf, and play tennis."  They owned their home at Bryce for 20 years, and at first commuted on weekends from their home in Alexandria before their "first" retirement--they then made Bryce their permanent home before their move to Sunnyside.  Eventually, however, the limitations of living on top of a mountain became too evident.  "We lived 40 minutes from Woodstock, which had the only big grocery store, and there was no paper delivery," explains Chris.  She and Joe lived together here 12 years before Joe's passing in February last year.

Mountains have long been a feature of Chris's life, for she grew up in Numazu, Japan, in the shadow of Mount Fuji.  Numazu is also famous for its cherry blossoms—more on this later.  Chris left home at the age of 12 to attend a Catholic boarding school in Tokyo.  At that time she knew no English ("except 'ABC'") - and on her second day at the school she was expected to participate in a spelling bee.  "The nuns were furious at my lack of knowledge" she remembers. 

At the age of 20 Chris met Joe at a military base in Japan, where he had begun working for the Red Cross, a career he continued for his entire professional life.  During that post-World War II time it was difficult to date in Japan, but Chris and Joe somehow managed to do this.  Their first date was a visit to the cherry blossoms, and Chris's sister served as a chaperone, "though she disappeared to leave Joe and me some time alone together."  For a while they maintained a long-distance relationship.  Joe traveled extensively for the Red Cross, but they maintained a connection through letters and occasional visits.  Five years after their first date they were married in a Catholic ceremony in Japan.

In the early years of their marriage Chris and Joe did extensive traveling, as Joe moved around the world in his position with the Red Cross.  They lived in Hawaii, Virginia (Alexandria), and Japan, and Chris stayed at their home in Alexandria while Joe traveled to Vietnam several times on Red Cross business.  Along the way they adopted two sons: Michael, who died five years ago, and Bruce, who went to West Point and is now working as a "water chemist" in Atlanta.  Bruce and his wife have two children, a boy and a girl—Chris's only grandchildren.

Also early in their marriage, when they were living in Alexandria, Chris began working for a guide service in Washington, one that consisted primarily of the wives of military officers.  She also began to get professionally involved as an interpreter for documentary filmmakers from NHK, a large media conglomerate from Japan.  In the 1980s  these filmmakers got intrigued by the "War on Drugs" in the U.S., so they came over to do a documentary on that program.  One of the more personally difficult assignments Chris got involved with occurred when filmmakers decided to make a documentary on the bombing of Hiroshima and wanted to interview some of the pilots and other personnel who had been involved in that bombing.  In this pre-Google age Chris had to locate many of her contacts using nothing but telephone books. 

Chris's travels as an interpreter took her far afield, even to Churchill, Manitoba, where filmmakers were documenting the lives of white whales.  (I'm looking at you, Ahab.)  Perhaps Chris's favorite time as an interpreter for Japanese filmmakers occurred when she went to Africa three or four times as they were filming documentaries on wildlife in Botswana.  One of her fond memories involves being at a camp when there were few food supplies—or at least few palatable ones—and Chris made smoked salmon sushi for the crew.  "Also," she recalls, "at a wildlife documentary festival in Jackson Hole, Wyoming, I met David Attenborough," the world-famous filmmaker and conservationist.  Chris also recalls with fondness working with a crew filming the Bonobo monkey Kanzi, "who was able to have conversations with humans he was so smart.  And I think he even fell a little in love with me" - though it must be said he expressed this love in untoward ways.

While living at Bryce Mountain Chris skied "almost every day conditions were right."  And despite "aches and pains, I was determined to ski there at least until I turned 80."  This is something Chris accomplished, making six runs down Bryce Mountain at the age of 80.  That's an impressive achievement—and an impressive life!