The "Alexa" Blog - 4
In this fourth installment of The
"Alexa"
blog, we will be looking at two questions that are most often asked about the Amazon Echo: (1) Is the Echo device portable? And (2) What languages can
"Alexa"
respond to? We will begin with the first question.
Is the Echo device portable?  You may not fully understand my simple answer, but do not fear as I will attempt to make it clear to you in this Blog. My simple answer is: NO and YES (what?). NO because the Echo devices need to be plugged into a power source. They do not currently contain internal rechargeable batteries and (thankfully) there are not many power cables and outlets to be found by hikers & picnickers deep in the woods or by bathers on the beach to plug them into. YES because you can purchase rechargeable battery base packs that can be attached to the Echo devices to plug into (an example is displayed in the photo below). Thus it is potentially possible for the Echo device to turn on and be operated deep in the woods or on the beach. Notice that I said "potentially" when referring to operating the Echo device in remote locations!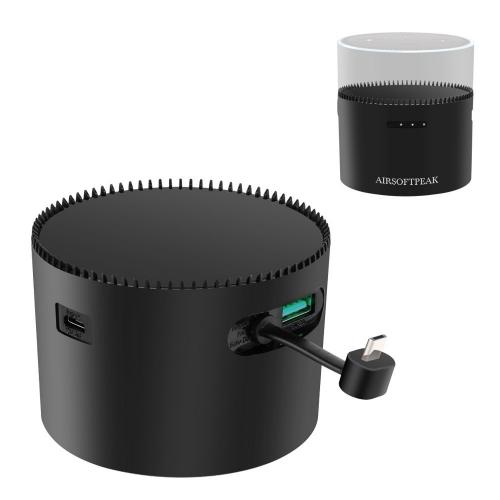 The above battery base pack is the "Airsoftpeak" model for the Amazon Echo Dot retailing for approximately $32.00. It is rated to keep your Echo Dot powered for approximately 10 hours of continuous operation.
With the Airsoftpeak attached to your Echo Dot, you will be able to take your device either deep into the woods or onto the beach and turn it on. However, all Echo devices require Wi-Fi internet access in order to operate (and this is why I said you could "potentially" operate the Echo device in remote locations such as these). Currently, all Amazon Echo devices require a power source and Wi-Fi internet access (preferably secure and password protected) in order to operate. Unfortunately, trustworthy secure Wi-Fi internet connections in remote locations are rarely found. This is an important fact about the Amazon Echo! Remember, "Alexa" does not live inside the Echo device; she resides inside the Alexa Voice System in the Amazon Cloud. The Echo device is only the conduit to that Voice System. So, even though you can turn on and power up the Echo, that does not mean you can access "Alexa." You also need Wi-Fi internet access! Additionally, I highly recommend that you consider only operating Amazon Echo devices on secure, password protected Wi-Fi internet systems known to you. The potential always exists for personal information to be compromised when operating any device on an unsecured Wi-Fi internet network.
What languages can "Alexa" respond to?  As noted above, Amazon Echo devices can operate worldwide if they are connected to a power source and a connected Wi-Fi internet service. However, the only languages that "Alexa" is currently capable of understanding and responding to are: U.S. English, U.K. English and German. To my understanding, Amazon is now working on adding Japanese to the list of languages that the Echo family of devices can use.
On a related issue, I mentioned in an earlier Blog that Echo devices are capable of calling or messaging anyone, hands free (after following instructions in the Alexa App to enable this skill). However, this skill is generally limited to calls and messaging you make with your Echo device in the United States, Mexico and Canada. I am pretty sure that U.S. mobile phones capable of operating internationally, are also able to receive calls and messages from properly set up Echo devices.
Now you can try a few geography related commands in order to enhance your enjoyment while using the Echo or Dot. Remember to use the wake word, "Alexa" first to alert the Echo to listen to you. For example:
"Alexa, where is country X, Y, or Z located?"
"Alexa, what is the population of X, Y, or Z city?"
"Alexa, what is the capital of X, Y, or Z country?"
Or you can put your geography knowledge to the test by saying:
"Alexa, play Geo Quiz."
There pretty much does it for today. In my next "Alexa" blog installment we will examine some more of "Alexa's" capabilities and specifically take a look into some concerns that, your Amazon Echo device may be spying on you.
"Ciao"