Artistic Treasures at Sunnyside !
The English Village at the Tartan Grill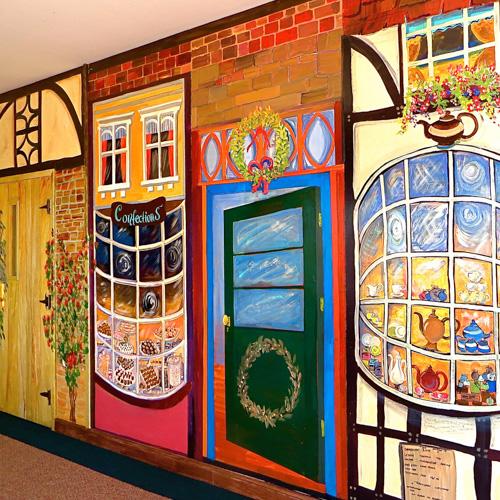 Did you know there is a recreation of a long ago 19th Century English Village right here at Sunnyside?
The shops and cottages that line the corridor leading to the Tartan Grill in the Highlands give us a glimpse of an earlier age, reflecting the charm, friendliness, and intimacy of such a small village. The panels were installed about six to seven years ago and have been fondly admired ever since. They were created by Derek Brownsword, a professional artist and resident of Harrisonburg. The bakery displays tempting homemade breads, rolls, buns, and desserts; the confectionery shop has delectable bonbons, chocolates, and confections you can almost taste. Both men's and women's clothing, millinery, and outerwear are stylishly displayed with top hats, gloves, ladies' hats and lacy scarves, as well as men's pipes and boots in the Owen and Reed Shop, complete with 3-digit telephone number listed. The shop that sells teapots and tea sets has a list of exotic teas available and serves tea at 4:00 p.m. each day. Varieties of cheese and various cured meats and hams are displayed for the hungry customer.
| | |
| --- | --- |
| | |
The open door to an apothecary shop shows vials and bottles of medicines and chemicals. Legend has it that someone in the Highlands once tried to mail a letter in the bright red Royal Mail box! As was true in the past, many people lived in the floors above their shops, and you can see the warmth and coziness of some of the upper windows with candle-light and flower boxes. These murals add warmth, charm, and hominess as you approach or leave the Tartan Grill.
The Theatrical Murals at the Bethesda Theater
Derek Brownsword's beautiful artistry can also be seen in the entry hall to the Bethesda Theater. There he has created five murals reflecting a variety of theatrical and entertainment scenes. The premier mural is a representation of a Paddle Wheel type of Mississippi River "Showboat." He painted each face taken from real photographs of showboat passengers. Other scenes include the ballet "Swan Lake" with dancers "on pointe"; a scene from the Tchaikovsky Christmas ballet "The Nutcracker;" a scene from the Gilbert and Sullivan opera "The Mikado"; and a fantasy display of childrens' characters called "Puppet Party Time."
Now a bit about the artist –
Derek Brownsword was born in the Midlands of England in 1929. When he was two years old, he was attacked by a large dog. His scalp was injured and his right eye was so damaged that he lost his sight in that eye. But by the age of 10 years, Derek had already shown his talents and ability to draw. When he was just 11 years old, he was hired by the world-known pottery, Royal Doulton. His first assignments were to hand paint small plates with a scene at Lake Como in northern Italy. His guide was a black and white photograph that he would use to copy its image onto the blank plates. He did this work for several years, and at age fourteen, he was given the opportunity to "move up" to paint pictures and designs on vases. This was very difficult because, with only one eye, he could not see objects in 3-D (third dimension). He had to decline that assignment and continued painting on the two-dimensional surfaces of various plates.
After World War II, Derek emigrated from England to the United States, where he found several jobs over the years at a number of different china and pottery factories. His positions included painting various products, teaching painting techniques to other employees, advising about the firing and glazing of a wide variety of pottery shapes and products, and moving into various supervisory and management positions. He worked in York, Pa, and was consultant at several other businesses in the eastern U.S.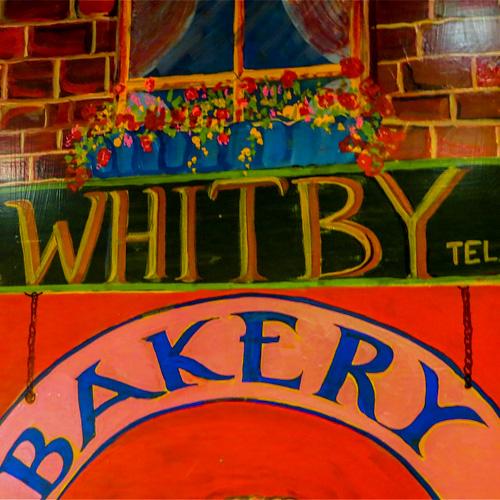 On a business trip to Maryland, he met his future wife, Karen. Derek says that meeting and marrying Karen is the best thing he has ever done in his life. Shortly after they married, both Derek and Karen found work at the Silver Lake Mill, near Silver Lake here in Rockingham County. Many years later Derek and Karen traveled to Italy. While there, they were able to go to the northern Lake Country, to Lake Como. During their visit, Derek wandered around and looked extensively for the view of the lake that he had copied onto the Royal Doulton plates so long ago. One day, he was successful and stood in the spot where the original photograph must have been taken!
Although Derek has retired, Karen is still employed at the Silver Lake Mill. Derek has continued to paint through the years and has on several occasions donated the proceeds for different fundraising projects. Derek and Karen live in Harrisonburg, with their loyal companion, a black and white cat named Whitby. The Bakery in the Tartan Grill murals is named for Whitby!
The charm and exquisite details in the 19th Century English Village display at the Tartan Grill and in the imaginative and detailed murals at the Bethesda Theater are wonderful examples of Derek Brownsword's artistic talents.
--Beverly Silver