Cradles Will Rock!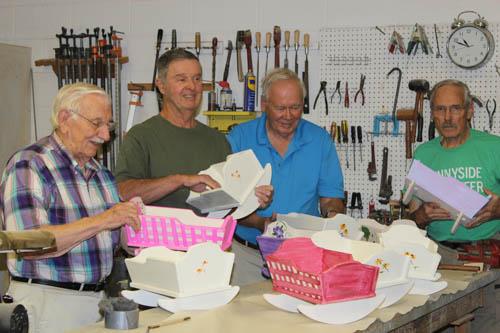 Yes, it is cradle season once more, and the Woodworkers Group is carrying on the tradition of creating Salvation Army cradles to hold the babies for delivery to little girls who might otherwise not have one. This wonderful program was begun years ago by Ed Yarnell. Then Bob Kaufmann took over, and the tradition continued.
Len Tulio joined the team last year when Bob, who knew Len was a carpenter, asked him to help. Len said it was not Bob's ability to work with wood that drew him in, but the guy himself. He liked that Bob was very sincere and open. Later, Bob asked Len if he would make sure the program went on. Bob is sorely missed, but I know Len and the other woodworkers will not let the tradition lapse.
This year, Len and Bill Bedall made the cradles. Len had noticed that the pattern for the cradles was the same one used in the Vocational/Technical School he attended in his late teens. Some streamlining of the process here at Sunnyside was done: instead of hammering in each nail, a nail gun was used, making the work go much faster. They also switched the type of wood used.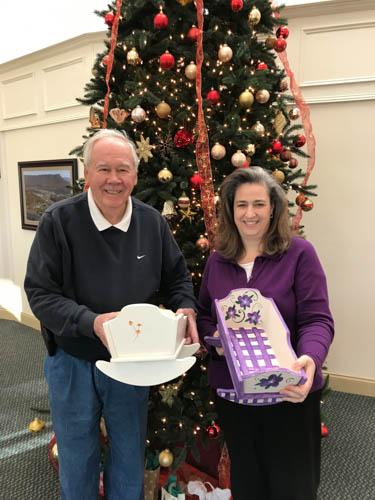 Painting, Len explained, is not his most favorite activity. He asked golfing buddy and artist, Fred Repass, to help with the painting. Fred painted half of the cradles and hand painted wild flowers on each cradle. Len also asked Kella Cook if she knew someone who liked to paint. Len told me she responded, "Yes! Me." Her version: "If you are really desperate, I'll do it." To which he responded, "I'm desperate!" She painted the rest of the cradles with different colors and wonderful designs. Kella has also used her talent to paint beautiful murals on the walls of her daughters' bedrooms.
Len knows wood. He went into the woodworking field after graduating from high school. He enjoyed the creativity of making each part and then putting them all together to create something unique.
Len was also a gymnast and went to college majoring in physical education. He earned money through college making wooden wagon wheels. After graduation, he taught PE to 9th graders for 37 years. But there was still wood in his life. He continued working with wood and took pride in making each piece the best that it could be.
When he moved here, Len was sure there had to be more carpenters and wood workers at Sunnyside, so he put a notice in the Funside, to set up a meeting with anyone who enjoyed working with wood. He recalled 5 or 6 new people joined the group. They enjoy working on projects and are looking for new ones. They enjoy repairing items for Sunnyside residents. As always, newcomers are always welcome!
--Kat Marlowe