Day Tripping - Sunnyside Style !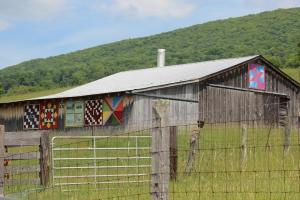 [by Mary Rouse]
On a beautiful June morning, I set out with Sunnyside friends Sally Meeth, Mae Guthrie and Ginny Biggs to explore Highland County's "Barn Quilts of Highland County." I was the designated driver, and Sally was our well researched navigator with brochures and maps in hand. Following Route 42 from Harrisonburg to Churchville, we turned west onto Route 250. We enjoyed the mountainous scenery, which rivals that in New Zealand and any other revered scenic mountains.
Sally brought along a brochure called "Barn Quilts of Highland County, VA, Heritage and Tradition Uniquely Displayed." We were able to find around 28 of the listed 36 quilts.
In the village of McDowell, site of a civil war battle, we spotted the first of many quilt squares painted on barns, sheds, and homes. Thus began our quilt scavenger hunt. The General Store, with its museum and display of handcrafted items, provided a cool place to stretch and enjoy the museum and handcrafted items.
Hover your mouse over the photo to see more images and captions.
Driving along, we told stories, quoted poetry, and burst into song while searching for the next quilt on the trail. I stopped often to take pictures of other folk art and beautiful vistas, often on narrow dirt roads. We were blessed with light traffic.
We had lunch in Monterey with a contingent of Harley enthusiasts from Somerset; they were not looking for quilts! They generously allowed us to pose with their bikes, no user fees!
From Monterey and the surrounding dirt roads, we took Route 220 to Franklin, then followed Route 33 home.
What do four former teachers have in common besides stories, poems, and songs? They have inquiring minds, no fear of getting lost, trust in each other, and a love of country roads and ice cream.  Three of the friends had taught in Rockbridge County, where I was born.  One had taught some of my cousins.
Plans are being made for our next trip!
-- Mary Rouse, in collaboration with Mae Guthrie, Sally Meeth, and Ginny Biggs, 6/12/2017
photos by Mary Rouse