Donna Grist - Coloring Par Excellence!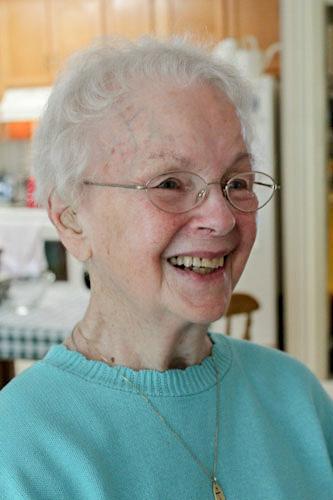 Almost any store you walk into these days has at least one adult coloring book for sale. I have seen them in everything from home improvement stores, to drug stores, to the obvious craft stores. About three or four years ago, they were the NEW IDEA in crafts. But I'd like to tell you the story of an "almost" 90-year-old lady who has been coloring for over 80 years.
Donna Grist and her late husband, Dick, moved to Sunnyside in September of 1994. They were one of the first residents of Hickory Cove, and I am very fortunate to have Donna not only as my next-door neighbor, but also as one of my close friends. When Donna moves on to Assisted Living, I will miss our long chats and the pearls of wisdom I glean from them. I am sure I will make that trip across campus to see her often.
Donna is the second of four daughters. She grew up in Pennsylvania, but after WW II she and Dick moved to Iowa where he finished his education as an arborist. After their two years in Iowa, Dick went to work for the W.M. Ritter Company, which was bought by Georgia Pacific in 1960.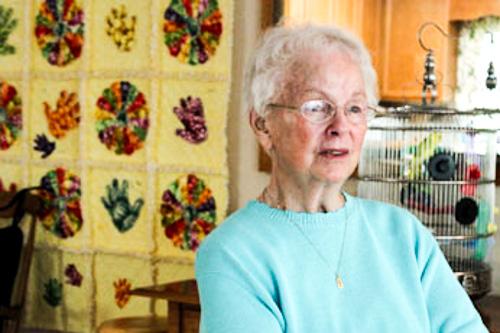 The Grists found themselves moving around the country as their family grew by two daughters and three sons. They spent three years in Red Jacket, WV; eight years in Whiteville, NC, which was 40 miles from Myrtle Beach; and two years in Augusta, GA, which was the time when Ritter merged with Georgia Pacific. In 1964 they moved to Princeton, WV, where they lived until moving to Sunnyside. In addition to their children, they now have eight grandchildren and eight great-grandchildren.
Donna volunteered in the public library and did such an excellent job she was eventually hired full-time as a cataloger and to handle all the ordering. To this day, she loves to read; one of the things we talk about are the books we love, and we share new titles with each other.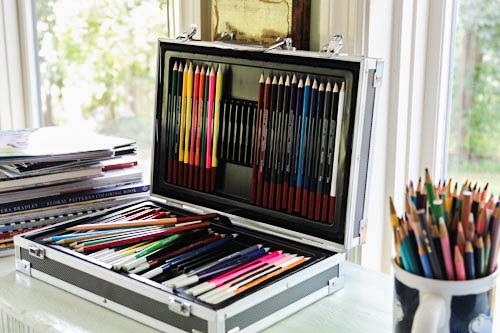 Donna began coloring when she was about eight years old. Her favorite colors have always been orange and navy blue. To this day, they are the primary colors she uses when planning her project. When she was a child, she said her siblings were more out-going, and she just enjoyed sitting and coloring and listening to them chatter. This continued as her children were growing up. She could sit and color and listen to her children and learned so much about what was going on in their lives. She has never stopped coloring; you could say she was way ahead of her time!
One of Donna's projects since coming to Sunnyside was coloring a collection of square pictures by Mary Engelbreit. Recently one of her grandsons framed twenty of these pictures, and they hang in her sunroom. This grandson lives in Vermont and has a workshop. There will be four pictures for each of her five children and their descendants. In addition, she has a large file of other pictures she has colored. One of my favorites is a tablet of large pictures of old-fashioned dolls. She said she can tell by the price on the cover that they are very old. I told her that it would be lovely if they were framed and hung in one of her great, or great-great granddaughter's rooms. What a wonderful legacy!
Donna says that coloring gives her a feeling of creative freedom and has always been therapy for her. She has colored while sitting in doctors' offices, while watching TV, or just sitting and listening to music. Donna also loves to watercolor. Again, it's that freedom of expression, and she loses herself in coloring like she escapes from life reading a book. When she starts a new project, she chooses three main colors and an accent color and then goes to work on her picture.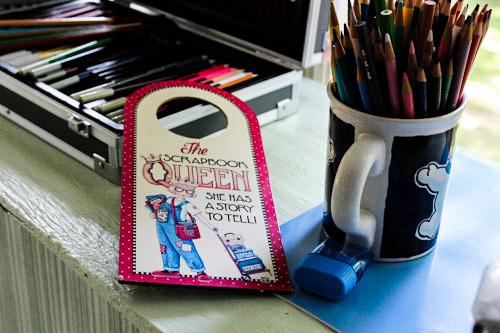 I think Donna is a woman ahead of her time. If only she had thought to publish all those adult coloring books! The little girl in Donna loves nothing better than opening a new box of crayons or color pencils or markers. I hope she has many more years to color and to sit and visit with me! --Pat Oxley
-Photos by Mary Rouse