It's Really Springtime
Jim Hogan
I'm a daffodil bulb who has been hibernating since last September. The winter has been cold and the snow cover reminded me it was time to stay asleep until the weather got warmer.
Today I felt the first seepage of water around my inactive bulb. It has awakened me a little but not enough to change my overall condition. I'm still cold but I think it is time to send out a couple roots in the soft, wet ground in preparation for springtime.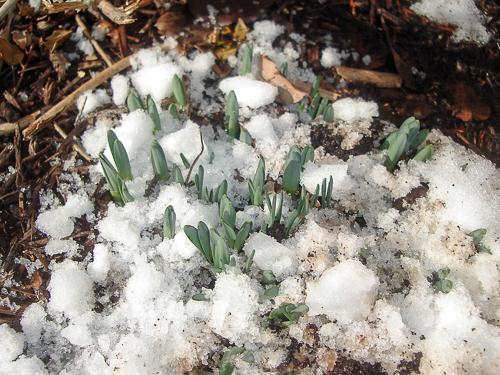 It has been a couple of weeks since I felt the cold snow melting. Today the moisture was much warmer and started my juices flowing. Was it time to start my new growth? I'll wait a few more days to make sure springtime is around the corner.
Another day of feeling the warmer moisture surrounding my bulb. My juices are rising in strength and I sense it is time to send out my first shoots above ground to find the warm, life-giving rays from the sun. The energy I have stored up over the winter bursts open my bulb and sends the first two shoots upward.
I am rewarded when my two shoots break ground and feel the warm sunshine. Those shoots signal it is time for all the shoots to reach for the open air.
My two shoots are about six inches high and full of life. Then the sun's rays disappear and my shoots are shivering. It is then I notice some white flakes sticking to my shoots. They are very cold and cause me to shut down any thought of sending more shoots to the surface to suffer.
They decided to send out more roots while I wait to see what happens to my shoots. My shoots tell me they are buried in snow and shivering mightily. I'm afraid the snow will end their usefulness and die.
Another week goes by and I feel the cool moisture around my bulb. Maybe it is time to send out two more shoots to replace the damaged shoots exposed to the freezing cold. As soon as they break ground, the shoots feel the cold air and signal it may not be time to send more shoots out.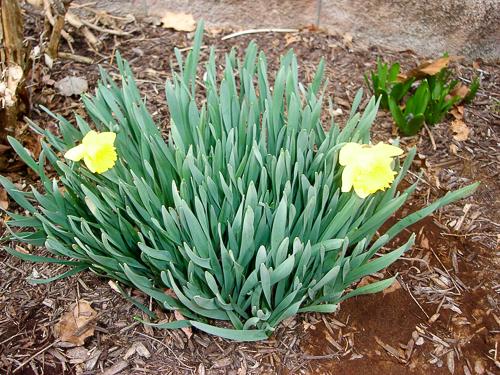 My latest two shoots cannot contain themselves and continue to sprout. Then their bright yellow flowers begin to unfold and take in the sun's rays. The shoots send signals to send more shoots to the surface. It is then I realize my bulb has done what it was supposed to do. My happiness is rewarded knowing 'It's Really Springtime.' My flowers will trumpet our happiness to bring color into the world.