Our Pavilion Pond Has a New Fountain!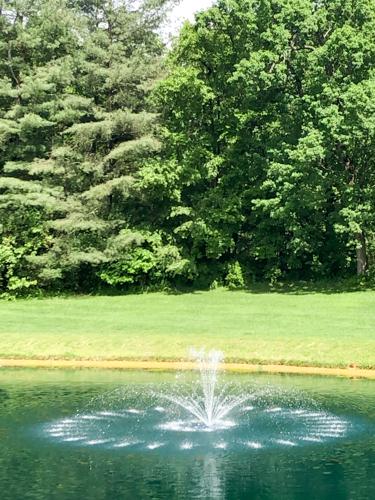 Flashback …
Jane and Lee Campbell lived in Arlington, Virginia until their retirement when they moved to the Valley. After a number of years – and winters – here, they moved to Florida. Knowing they wanted to eventually live in Sunnyside, they had put their name on the waiting list years before.
Construction of the Glen was well underway when Vicky from Marketing called to say the house overlooking the pond was back on the market. They took it! Although the house was already under roof they were able to add the picture window overlooking the pond, as well as a sun room. They closed on the house in November 2007 but didn't make the actual move from Florida until August 2008.
Low and behold, the pond was still under construction and was huge because of the number and size of rocks they encountered. Watching the guys work became their entertainment, which Jane documented with her camera. (We know you will enjoy this slide show of pond construction featuring Jane's photos!)
… And Fast Forward:
Returning from a winter in Florida in the spring of 2018, Jane and Lee were disappointed to find the fountain not working. But when they returned from Florida this year, much to their delight, Buildings and Grounds had installed a beautiful brand-new fountain in the middle of the pond. Water from the new fountain sprays gracefully, and at night it lights up!
If you'd like to visit the new fountain, the best view is from the parking area next to the Pavilion. Come and enjoy!
--Linda Bradley and Jane Campbell