Port Republic and Gundalows
Ever wondered about the origins of Port Republic? by Cindy Westley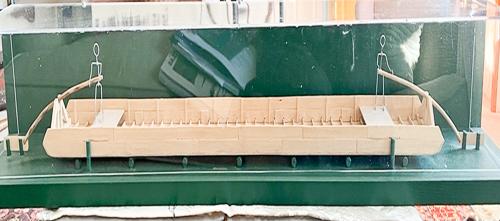 Luckily, Tip Parker decided to explore the role of Port Republic and the Shenandoah River on the development of the Valley. After the revolution, coastal cities were growing and looked to the Valley for grains, leather, timber and other supplies. But it was hard to find a way to get these goods to their markets. As the saying goes, if the roads were good, the crops weren't.
Canals, like those on the Potomac weren't practical because the Shenandoah River is shallow, and very windy with stretches of rocky rapids. It still was the best choice. During the 1800s farmers moved rocks to create channels through the rapids. They collected tolls for the use of the channels.
In 1802 Port Republic was incorporated as the start of a 300-mile channel to Harpers Ferry on the Potomac. A unique type of boat was needed. The Gundalow was developed. They were 60-90 feet long and about 10 feet wide. There was a six-man crew (some free and some slaves) with two men steering using long oars on either end of the boat to get through the winding channels. The boat was actually part of the crop. When it arrived, the timber and nails were sold and used in buildings. Today you can still see buildings in Harpers Ferry that contain parts of a Gundalow. The men collected their payment and walked back to Port Republic.
Port Republic became a bustling center to support these activities. The peak of activity was during the 1830s with over 30 Gundalow trips in many months. After that, weather, a depression, and the start of the railroads led to the decline of the community. The last trip was recorded in 1867.
When Tip moved to Sunnyside he wanted to know more about the area. The Shenandoah River and its towns hold so many stories. He decided to create a scale model of a Gundalow. There are no pictures so he had to do a lot of research. His model is a beautiful replica that will be donated to the Port Republic museum. (See picture above.)
Tip brings this piece of Valley to life. For more information, see this Wikipedia article.
https://en.wikipedia.org/wiki/Port_Republic,_Virginia
. We are looking forward to visiting the museum! Another good source of information is
The Shenandoah River Atlas
by W.E. Trout, III.