Story of the Quilt in the Highlands Lobby
Highlands Lobby Quilt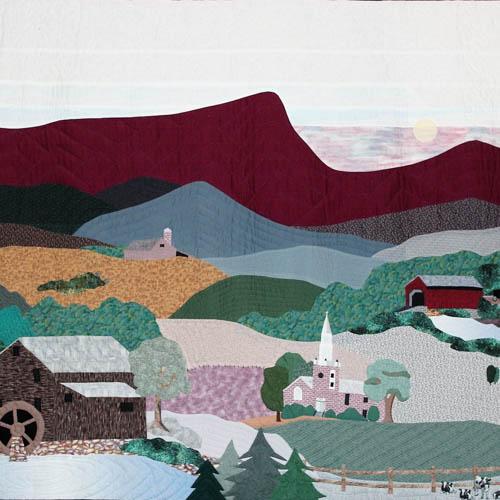 How many times have you walked through the front lobby of the Highlands building and admired the beautiful hand-made quilt hanging on the wall above the fireplace? Have you wondered about its story? Well, here you go!!
Helen Shank of Dayton, Virginia designed and made the quilt, which is 78" x 87". Helen was a member of the Quilters Guild, and Karen Shiflet, a former Highlands employee, was well acquainted with Helen's quilting ability. Helen worked on the quilt for two years, and Sunnyside received it in 1998.
When Helen began designing the quilt, she was asked to include the view of the Massanutten Peak as seen from the Highlands. She also fashioned the wall hanging to include several other familiar scenes of the Shenandoah Valley. If you look closely, you'll see that the church is a replica of the Mt. Bethel Church of the Brethren (Karen's home church).
The mill was included to depict the many mills of historical importance in Rockingham County. The pasture with Holstein cattle is a familiar sight from many of the residents' apartments. One of the few covered bridges still in existence is located in northern Rockingham County. The rolling hills, the expanse of farmland, and the horse and buggy are all familiar sights in the Shenandoah Valley.
The next time you pass by the quilt, see what other reminders of our beautiful valley you can find! --Linda Bradley