THE BLOOM TRIO FLOWERS IN HARRISONBURG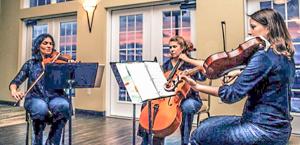 Among many highlights at Sunnyside's Sunday Soirée in September was music performed by The Bloom Trio, an ensemble of professional local musicians. Their repertoire is impressively broad, ranging from Bach to Aerosmith . . . and including many styles and composers in between. Recently I had the pleasure of sitting down with Katie Overfield-Zook, the trio's violist and business manager, to get some history of the group and insights into the life of a professional musician.
The Bloom Trio was founded in 2012 by Katie, Lisa Wright (cello), and Maria Lorcas (violin). They came to know each other through Eastern Mennonite University's Music Preparation Program, where they had all been teaching students who ranged in age from 3 to 18. Katie, Lisa, and Maria specifically formed the group to do musical "gigs" in the Shenandoah Valley and surrounding areas. All professional musicians, they established themselves as a trio specifically to play at weddings, though they still play in many concerts with a number of established orchestras.
I asked Katie about the origin of the name, for The Bloom Trio has such happy and even spring-like connotations. Her reply was that when the three of them met to come up with a name, Katie suggested "'The Bloom Trio' because it sounded pretty." The others agreed with Katie, so the name was adopted without further debate.
The makeup of the group is actually more complex than it appears. One might think, "a trio . . . three musicians, right?". But counterintuitively, there are actually more than three musicians in The Bloom Trio—quite a bit more. Katie, Lisa, and Maria—the three founding members—call on a number of other professional musicians to cover the events at which they're scheduled to play, so there are actually up to fifteen musicians working under the professional name of The Bloom Trio. This arrangement allows the group more flexibility. For example, September and October are among the busiest months for these musicians. (This year they had twenty-six events during that two-month period.) One day they were booked to perform at three weddings—one in late morning and two in the afternoon. They were able to meet all of their musical obligations by using six musicians in the trio. (Yes, I know that last sentence sounds odd from a logical point of view, but it does make aesthetic sense.)
One further logistical quirk: When you google The Bloom Trio, one of the listings comes up as "The Bloom Trio – String Quartet." When I asked Katie about this anomaly, she smilingly replied, "When people are looking for musical groups, they tend to look up quartets first, so this gives us more visibility."
Katie grew up outside of Burlington, Vermont, where her father was a professor of English. She began to study the viola in third grade and is among those rare instrumentalists who actually started on the viola—most move to the viola from another instrument (usually the violin). While she did some musical gigs during her high school years, she started college at the University of Vermont planning to major in English. Her talent as a violist was becoming so apparent, however, that her teacher urged to continue her musical studies. Katie then transferred to the University of Michigan, where she earned both a bachelor's and a master's degree in viola performance. A few years ago, she and her husband settled in the Shenandoah Valley, where her husband, Ian Zook, is a professor of French horn at JMU.
The trio stays quite busy, although during the period from January through March Katie tends to be preoccupied with handling bookings rather than actually performing. She estimated that since the ensemble's founding six years ago, they've played at about 250 weddings. Although many weddings are now held at wineries, one of their most unusual venues was on a cricket pitch at a private estate wedding in Timberville.
Katie locates her personal preferences for musical performance in the mid- and late-Romantics, especially Brahms and Mahler. When The Bloom Trio works on modern repertoire—a request for AC/DC, for example (which actually happened)—Katie does the arrangements, orchestrating for violin, viola, and cello from a piano version.
If you missed the performance of The Bloom Trio at the Soirée, you'll have the opportunity to hear them at JMU's LLI Christmas Gala on December 6th. In addition, they're already working on a concert to be presented at Asbury Methodist Church on February 24th at 3:00—so mark your calendars and prepare yourselves for a musical treat!