A Wandering Wheelman Visits Sunnyside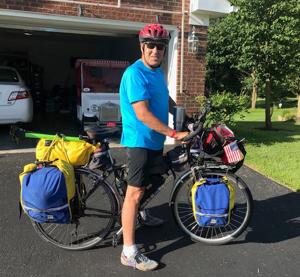 We belong to a group of about 100,000 touring cyclists all over the world who will host a fellow cycling traveler when on a tour. It's called "Warm Showers" (see https://www.warmshowers.org/ for more information about this group).
On Wednesday, June 27, we had the pleasure of hosting Jack Day of Des Moines, IA, who was on his summer tour and bound eventually to Nova Scotia. He's 74 now and has been a serious summer touring cyclist since he retired in 2010. On this trip, he'd already run south from Des Moines on the Natchez Trace to the gulf, then turned northeast. The night before he was here, he slept in Waynesboro. He generally makes 50 - 60 miles a day.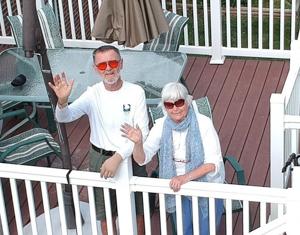 His bike is something else. It has an electric pedal assist on it to help him conquer the steeper hills, and he carries EVERYTHING he needs; clothes, tools, spare batteries, even camping equipment for nights he can't find a WarmShowers host or a hotel! That means his bike is HEAVY!!
And when I say he carries everything, that includes a drone! He took a picture from his drone of Pat and me standing on the deck behind our apartment.
Age is just a number, folks!