A Very Busy Man!
Jeremy Michael Fulk is a very busy man these days.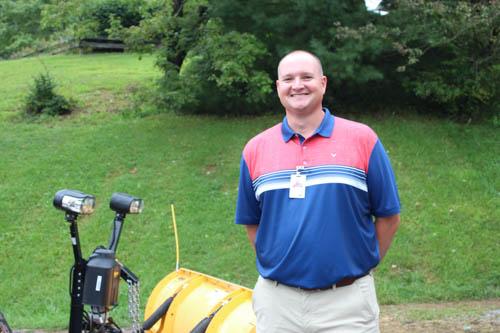 No office, no desk, no computer, but digging right in to his new job of Grounds Maintenance Manager, Building and Grounds. (No pun intended!)
Jeremy is a native, born at the old Rockingham Memorial Hospital. He and his two brothers lived in Bridgewater growing up. Jeremy attended Catawba College in Salisbury, North Carolina for 2 ½ years and finished his degree at Bridgewater College, graduating with a degree in Economics. He likes numbers. He worked at a desk crunching numbers in Richmond, Virginia and Orlando, Florida for a few years. It was okay, but he would rather be outside.
Jeremy was born into the green industry. His father worked for Jeremy's grandfather and great-grandfather in the landscaping business. He left the office to work for his father's landscaping and lawn care business and stayed there for 15 years, absorbing the knowledge, learning the skills. He managed work crews on different projects. He could not quite escape the numbers, though, as he also took care of inventory, equipment, and supplies.
But, the time came for him to be on his own, out of the family business. He said anyone who has been in a family business and knew the kinds of relationships involved, would understand. He felt that his business relationship was starting to interfere with his relationship with his father. He wanted a family relationship with him.
Jeremy looked for a job using his skill sets and when the position of Grounds Maintenance Manager was advertised at Sunnyside, he applied. He knew Sunnyside interviewed several applicants, but believes he was selected based on his experience with turf and ornamental landscapes and his experience managing the work force required to complete these tasks. Jeremy is unique in that, although his degree is in economics, he grew up in the landscaping business and worked in the field for over 25 years and knew the position. It was essentially doing what he had been doing for the last 15 years; leading and working with crews, working with inventory, equipment, and supplies. Same job, but now just for Sunnyside. Jeremy brings to Sunnyside his knowledge base of local plants, landscapes, and turf. He knows he has good people skills, can manage his employees, and work with his "customer" residents. He believes he can help them with their landscaping problems and be a resource to them. He acknowledged that part of this job is office work, so he is still crunching numbers. He is good at it, but would rather be in the sun!
Full disclosure: Being a local, he has always known about Sunnyside and thought it was a good place to work. While in high school, one of his brothers worked in Dining Services. He has known Josh Lyons for most of his life. Josh is one year older and they graduated from the same high school.
Jeremy knows Sunnyside's potential. A lot of work needs to be done: systems that need upgrading, more training for the crew: he wants to increase productivity and encourage his crew to take ownership of their work. His crew has a lot of potential, and he wants them to develop a sense that working here can be more than just earning a paycheck. Some are good at one thing but not as good at others. He wants to learn their strengths and weaknesses, to be better able to maximize their capabilities. He compared the grounds here to a blank canvas. He is very impressed with what he has to work with and what it can become.
He acknowledged the grounds at Sunnyside are not where they need to be. He was aware of past plans for the campus that were never implemented; he wants to take a look at those and get Sunnyside where management wants it to be in terms of the overall beautification of the campus, having it well maintained and taken care of. He acknowledged that Sunnyside has great potential, but added it would not happen overnight.
Jeremy is very approachable; his door is always open. Well, it will be once he gets an office! He said he cannot fix problems if he is not aware of them. He noted that he is a bit of a joker. He is an open book, a country boy at heart. He thought some people would be surprised that he enjoys musicals and theater. He said growing up, people here were not raised to have an appreciation for it. He said it wasn't "the cool thing to do." As he got older, he had more exposure and started to enjoy them. He said, as he is a hunter, fisher, and outdoorsman, most people would not put that together with him. He is a big fan of the Forbes Center and takes his kids to musicals and other productions. In fact, if you go to see Into the Woods there, look for him and his family!
The best thing about Sunnyside? His coworkers, the management team, and all the staff. He appreciates working with folks who value Sunnyside and enjoy being here. He said he has noticed employees do care and that is something you don't get at a lot of places. Hmm, that sounds like the Sunnyside Spirit!
Jeremy claims he hasn't had a bad day since he started a month ago. Challenging, yes, but in a good way. Right now, he is still trying to take everything in. However, he still can't find his office!
--Kat Marlowe